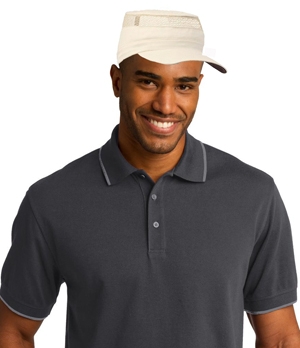 Urban Canairie is a revolutionary hat that does triple-duty in keeping you cool, comfortable and protected while wearing it out on the course or any place you please.   This breezy cap is elegantly designed for an active lifestyle.
If you're wondering about the name Urban Canairie – Urban reflects the increasing trend of people living in cities, while Canairie is an acronym for Canadian, Airy and Irie (which has Jamaican origins meaning happy and content).
Urban Canairie sun hats are lighter and keep you cooler than baseball caps or wide brim hats, offering the right balance of sun protection and heat-venting comfort.  This is accomplished with a thin mesh that goes completely around the cap, aiding in air circulation and coolness for the wearer.
The caps are made by skilled craftsmen and women, working with their hands and sewing with fabrics and materials supplied by an American company.  The stitching is strong and inside finishing is perfectly done giving the cap a sophisticated look and feel.  The cap is much cooler to wear than a baseball cap, that traps air inside of the cap, which can often bring on overheating for the wearer.  Urban Canairie caps also provide protection from the sun and even better, it doesn't give you "hat head".
Obviously, mesh material does not block 100% of the sun's ultraviolet rays, however, for extended durations with full sun exposure, it's recommended you use a high SPF suntan lotion on your ears and neck.
The Urban Canairie company is sincere when it comes being environmentally friendly.  Their caps are made from 65% recycled plastic bottles and 35% certified organic cotton – this goes to show how much they appreciate and value the beauty of nature and know that they need to do in order to protect it.  This reduces landfill waste through recycling and minimizes pollution via an ecologically friendly and sustainable process for dyeing and finishing fabric.
Urban Canairie. Color: Arctic Stone
Patented design, made in North America:
The Urban Canairie sun hat is manufactured in North America (Canada) using fabrics and components from the U.S.A.   They take pride in using local sources whenever possible.  Canada trade is important business considerations for the manufacturers of Urban Canairie.  That's why the hats are made in Canada, using environmentally friendly fabrics sourced from the USA.
At half the price of a heavy wide brim hat, this mesh hat provides a much cooler hat wearing experience when enjoying the great outdoors.  It is offered in light colors to reflect the sun's rays, further reducing heat build-up.
The bottom side of the visor is anti-glare, minimizing the amount of light that reflects into your eyes.
The headband is made with a sweat absorbing, moisture-wicking material.
You can wash an Urban Canairie by hand with a mild detergent, scrubbing the sweatband with a toothbrush. The hat can also be machine washed, using the gentle cycle & cold water.
The Urban Canairie is a "one size fits most" with a velcro strap allowing for precise adjustments.  Hat fits: Size 6-7/8 (head circumference of 21~1/2 inches or 55cm) to 7-3/8 (23~1/8 inches or 59cm)
MSRP $35.00  (free shipping on orders of two or more hats)
Available colors: Wintery White, Arctic Stone
Satisfaction Guaranteed:
You're going to love your Urban Canairie. If you are not happy with it, just ship the hat back to the manufacturer to receive a full refund.
Recommended For You.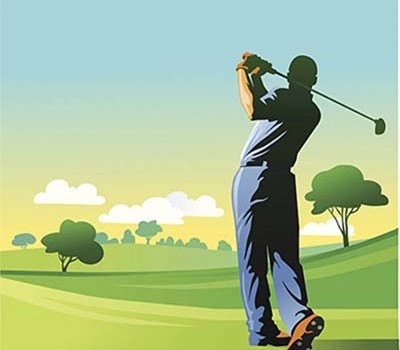 It's been a hot topic in recent years, whether or not PGA Tour players hit the golf ball too far.