Troy Mullins is an athlete. Scratch that – she's a heptathlete. While an undergraduate at Cornell, Mullins performed in the 200-meter, 800-meter, 100-meter hurdle, high jump, long jump, shot put and the javelin throw. She took to athletics at an early age, participating in volleyball, tennis and swimming. "I kind of just played everything," she recalls. Except, of course, for golf.
The latter isn't really surprising; the game is expensive, and it's pockmarked by a history of exclusion. That's where Mullins comes in. "When I show up at a country club, I'm usually the only woman that I see … unless it's a Tuesday. And I'm usually the only person of color. And I'm definitely the only black woman on the course, if that makes sense," she says while laughing, all at once acknowledging, bemoaning, embracing, and finding humor in that reality. "I've narrowed it down. It's like 20 percent to 10 percent to one. It's … it's tough."
She's not far off. Despite some inclusionary progress and public efforts to – wait for it – "Grow the Game," the National Golf Foundation found that of the 23.8 million people age six or older who played at least one round golf in 2016, only 1 million, or four percent, were African American. The numbers for African-American women are considerably lower. But Mullins – an Ivy League graduate who works as an academic tutor, speaks four languages (English, Spanish, Mandarin and Sign) and enters Long Drive tee boxes to the sound of Michael Jackson's "Beat It" – is living proof that it only takes one well-struck ball to fall in love with golf, no matter who you are or where you're from.
On June 6, Mullins will compete at "The Clash in the Canyon" in Mesquite, Nev., a World Long Drive event televised on Golf Channel which is a pre-cursor to the World Long Drive Championship in September. The road she's taken to get there is as unique as her place in the game. Mullins decided to move on from the heptathlon midway through her collegiate career when she suffered a hamstring injury and grew tired of running with shin splints. Though she had just one prior experience playing golf, a summer-camp clinic in which she was the only girl, she had been introduced to the game as a teenager in a different way.
Through a family connection, Mullins and her mom used to attend the L.A. Open's annual pro-am, back when a young Tiger Woods regularly played Riviera. Years later, out of a desire to stay active after moving on from track and field and in an effort to try something new, Mullins, in 2008, started going by herself to the driving range. "I would do it just to work out and relieve stress. I would actually break a sweat," she says, still with surprise. "I would beat balls until my hands would bleed. There's something about that first time you compress the ball, and that sound. I was just addicted to hitting the ball."
That addiction followed her halfway around the world. A China and Asia-Pacific Studies major, Mullins sought out a local driving range while in Beijing during a study-abroad program. As far as she knew at the time, she wasn't doing anything remarkable. She was just swinging as hard as she could and hitting the ball all over the map. She would only come to learn otherwise once she was back in Los Angeles, out of college and working at Brookside Golf Club to keep up her new golf habit. It was at Brookside that someone she now calls a friend, 2017 Ladies European Tour rookie Jenny Lee, opened her eyes to what she was really doing. "She was like, 'You hit it really far,'" Mullins said, recalling their conversation. "And I was like, 'No, I don't. … I don't hit it far.' "And she was like, 'Dude, girls don't hit it that far.'"
To be clear, Mullins, at 5-foot-8, surpasses 300 yards even when she fails to clear her hips and ends up pushing it right. When she does square up, she's one of the longest women in the world. That became obvious when she worked her way into the 2012 Women's World Long Drive Championship as a substitute following a withdrawal. It was Mullins' first official Long Drive event, a testament to the division's fledgling status. A do-it-herself-er learning on the fly, she arrived with two items – her Pomeranian (named after singer Etta James) and a standard-length, off-the-rack Ping Anser driver. "I didn't have a team or a sponsor or any of that, but I was told I shouldn't go myself," she says, explaining Etta's presence. As for the club: "It's the best driver Ping ever made," she maintains, five years later. "I wish they would bring it back."
Mullins' praise is understood. In her first event, the World Long Drive Championship, with a club she picked up at a Roger Dunn Golf Shop, she busted a ball 321 yards and took home second prize. She had done it all on her own in just four short years – but it would take her four more to make it back. After years spent working by herself, Mullins was looking to hone her skills, and not just as a long driver. A four handicap, Mullins had qualified for the 2012 U.S. Mid-Amateur even before the Long Drive.
Now she was setting her sights on the pro game, with an eye on the Symetra Tour and the LPGA. With the help of a potential sponsor and the recommendation of a pro at a prestigious L.A. club, Mullins hooked up with an instructor in 2014 who unfortunately did more harm than good. "He totally destroyed my swing," she says. "Destroyed my swing, destroyed my back. Every day I was at acupuncture … it was horrible. "I had the hooks. I hooked, even, wedges. I hooked the whole bag. … It ruined the game for me. I quit for a while. I was really upset about it. So all of 2014, I didn't play. I didn't do anything."
After a year break allowed her back to heal, Mullins found herself right back where she started – by herself, at the range. Except unlike before, she wasn't enjoying herself. She was there instead out of determination, out of an unwillingness to quit, even after her game had largely left her. "I was so … hurt by the fact that I trusted someone and it just ruined my swing," she said. "So I actually didn't own a driver for two years. I only hit irons. That's how ashamed I was that my swing had fallen apart."
Still beating range balls morning after morning, Mullins was noticed by an ex-teaching pro, Don Huffaker, who was impressed more than anything else by her commitment. Huffaker offered his help, but after her last experience with an instructor, Mullins was naturally skeptical. "He asked, 'Can I help you?' And I was like, 'I don't want to trust someone again.' So I told him, 'Maybe I'll just come practice with you,'" she says. "He wasn't going to change that much. We talked about it. And he just helped me get back, back to where I can do my own swing, do my own thing." Little by little, Mullins swing and confidence started to come back. After a lot of work and a little help from Huffaker, she is now a one handicap. And after four years away, she returned to the World Long Drive Championship last year, where she made it to the quarterfinals, and destroyed this camera.
Read rest of the story at by Nick Menta at GolfChannel.com
Watch Troy Mullins and the rest of the World Long Drive Women's Division compete in Clash in the Canyon at Mesquite – June 6 at 8PM ET on Golf Channel.
Recommended For You.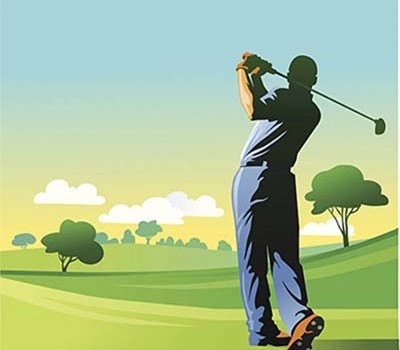 It's been a hot topic in recent years, whether or not PGA Tour players hit the golf ball too far.