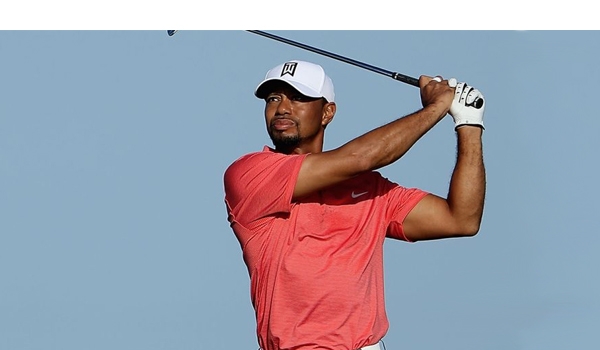 This week at the PGA Tour at Torrey Pines Tiger Woods, racked up what became his most impressive— and first —top-25 finish since his round at the Wyndham Championship back in 2015.
It's been a long time coming…
It's been a long time coming, but the former world number one golfer, Woods, age 42, successfully made the cut at the Farmers Insurance Open.  He finished t23 at 3 under.  Most notably, Woods shot even par or better during all four of the rounds.  His control of the club was nicely displayed and he exercised a quiet disposition throughout.  Clearly, he was focused on achieving his goal.
Although Woods was way down in the world rankings, 647th, earlier in the week, his presence still attracted throungs of fans who perhaps keenly recollect how he once reigned on the greens.  His scorecard attests to that.
According to Yahoo Sports, here are three takeaways from Woods' return to the PGA Tour:
1. Red and black is back — With all due respect to Patrick Reed, who also wears red and black on Sundays, Woods' presence made the two colors look a little more imposing Sunday while strolling down the Torrey Pines fairways. Woods had not made the cut in a Tour event since 2015.
Woods was amiable with fans this week, often stopping to give high fives or tipping his hat to raucous roars. While he may not yet be up to full speed, Woods looks poised for a true return this season if his surgically repaired back stays in tact.
2. Woods still has plenty of work do to — After hitting 8 of 14 fairways in the opening round, Woods went 3-14 in each of the final three rounds. His 30.4-percent driving accuracy ranked last among players to make the cut, and he wasn't always sharp with his irons, either. But his long game never looked out of sorts. He missed some fairways, but he was also in decent shape and his swing looked smooth.
Chipping gave Woods fits in 2014 when he first started having back troubles, but it was magnificent this week. Woods grinded for pars, making clutch putts and getting up and down out of Torrey's thick rough. It was an encouraging start despite some of the driving woes.
3. A Woods win may not be far away — After Round 2, Woods said he was surprised how low players were going. he said it was the thing he was least comfortable doing right now. While Woods didn't go low this week (72-71-70-72), but he didn't have to on a historically tough track.
Once Woods gets more comfortable with his iron game, he's going to be more dangerous. Shooting low scores can be a mental hurdle more than anything else, and Woods has never had a problem fixing problems on the course. Woods' next stop is at Riviera next month, where winning scores are usually moderate. If Woods can fire a 68 or 67 early, he may be back in business for a weekend surge.
Recommended For You.
ORLANDO, Fla. – Scott Parel, who spent 10 years as a computer programmer before turning professional at age 31, went