Golf, created for and by white men in Scotland in the 1400s, has never exactly been perceived as the paragon of diversity. Even after the sport became more acceptable in the 20th century for women athletes to play, especially after the Ladies Professional Golf Association (LPGA) was founded in 1950, golf still struggled to grow its ethnic and racial reach. After the LPGA was created, it took 13 years before Althea Gibson became the first African-American to play on the tour. Another 14 years later, LPGA Hall of Famer Nancy Lopez broke another racial barrier when she became the first Mexican-American to play on the tour.
Today, the LPGA is trying to increase its racial diversity—a problem often fingered for the sport's declining levels of popularity, especially in the U.S. More than 25 years ago, in conjunction with the United States Golf Association (USGA), the LPGA launched the nonprofit Girls Golf program, aimed at making golf more accessible to teens throughout the country. Since then, the program has introduced golf to more than 300,000 girls who might not have otherwise swung a club. With registration fees as low as $10, the program provides clubs, facility access and instruction to girls for six weeks, making it cost effective. But despite this, only 9 percent of its participants are African-American, 9 percent are Hispanic and 14 percent are Native Americans.
"Everyone thought Tiger [Woods] would bring in a new wave of black golfers, but that didn't happen," Ron Sirak, a veteran golf writer who won the PGA of America's Lifetime Achievement Award in journalism, told Excelle Sports.
For Sirak, who has been credited with helping bring the women's game national media coverage, a key factor that limits golf's diversity reach in the U.S. is its cost. "Golf is extremely expensive here and kids don't have the lasting support to be able to continue to play for the long term," he said. "So while programs like Girls Golf are great, who is going to pay for these girls to keep playing when families can't afford to keep them in the game?"
While the tour has struggled to increase its racial diversity, it has done a better job of boosting its number of international players outside the U.S. and Western Europe to the game. In 2010, 29 different countries were represented among the tour's 156 players with full status. That same year, the LPGA partnered with the Language Training Center to providing interpreters and tutors to players to help them overcome language barriers.
According to LPGA commissioner Mike Whan, the global reach of the tour has only continued to grow. "We've expanded our TV coverage internationally, which has helped us reach a bigger audience and potentially girls who otherwise may have not been interested in golf," Whan told Excelle.
Today, the Golf Channel alone airs in approximately 160 countries. Event coverage has also increased: Last year, 33 LGPA events were telecast globally, giving more exposure to players and the tour in general. In fact, the tour now plays 40 percent of its tournaments overseas, which Sirak specifically credits as improving its international reach.
"The recession and the horrid business decisions that former commissioner Carolyn Bivens made really put the LPGA in the position of where it had to embrace globalism," Sirak said. "But it was a combination of willing to embrace globalism and also economically and financially needing to embrace it. And since 1994, only one American has been [named] Player of the Year."
Read more by Anya Alvarez at ExcelleSports.com

Recommended For You.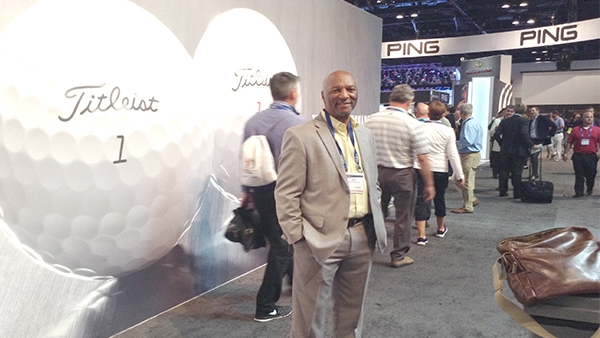 Award-winning author Pete McDaniel navigated through the thick crowds at the 2018 PGA Merchandise Show at the