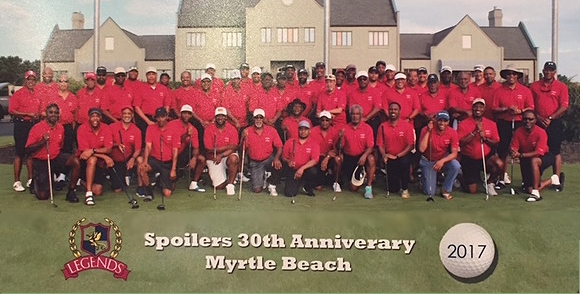 The Spoilers Men's Golf Club celebrated their 30th anniversary and annual golf/fellowship event on June 15-18, 2017 at Legends Resorts in Myrtle Beach, South Carolina.  Each summer the golf club gathers over 80 plus men who all come together to enjoy four days of fellowship and golf.   The Club offers a great opportunity for young and mature men, low and high handicappers, to come together annually for fellowship through sport.
"Thanks to all those Spoiler Golfers who came out last weekend to enjoy the awesome and beautiful weather in Myrtle Beach.  The fellowship was made even more special by the excellent service that was provided by the staff at the Legends Golf Resort," said Club President Curtis Bolden whose organization has three successful decades of helping mentor young men and engage them in networking with each other throughout the year.
It was back in 1987, in Greenleaf FL, after a small gathering of seven golfers that the Club began.   "We now have over 60 members on our roster and growing every year," said Bolden.    The "Spoilers" badge was originally used by a Boston, Mass., park league men's basketball team, made up of some recent college graduates. Several of the original Spoilers basketball team members now make up the founding members of the Spoilers Golf Club.  And that transition has been a continuous reward for the local community which benefits in many ways from the benevolence of the golf club.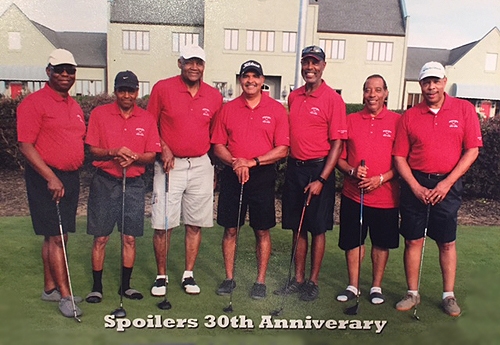 Bolden recalls the long history of the club saying, "Our first trip took place 30-years ago, to Greenleaf, Florida, where seven Boston University friends and family members came together for fellowship.  Many at that time had left the Boston area and moved to other areas across the U.S.  Original Spoiler members were: Curtis Bolden, Derek Harps, Terry Harps, James Peirce, Bernard Johnson, James Garvin, Bob Keene and Thomas Perry.  That was in 1987 in Greenleaf, Florida.
The Club's annual outing/fellowship takes place in Myrtle Beach, South Carolina, and has done so for the last 29-years."There is no membership fee to join the club. "Our group has grown over the years to 75 plus men on our contact list.  Over the past 10 years, we typically will get 40-48 golfers at outings.  This year, June 15-18, we were blessed with 52 golfers who joined us."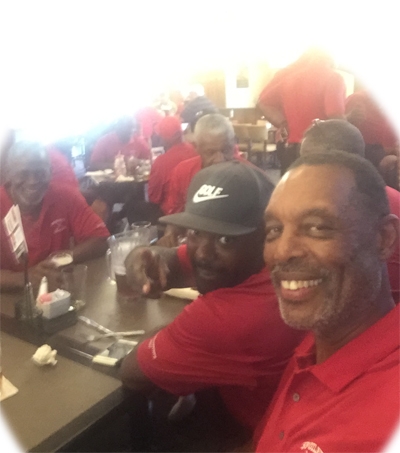 Participation costs for the annual outing typically range between $450 to this year $480 per golfer.  It's a real bargain, considering all that is included:  4 rounds of golf, 4 nights accommodation,  breakfasts, lunches and a couple of drink (beer/wine/soda) tickets each day.  Additionally, there is an exciting Friday evening cocktail reception and lively Saturday night buffet banquet as a part of the package!  "Grab golf giveaways are included with dinner," said Bolden.  "This year to benefit the Sharone Lee Garvin Fund we held a raffle which included some great donated prizes, like 3 golf bags, 2 putters, 3 wedges, golf gift basket, and several other items."
Today members of the Spoilers Men's Golf Club hail from a variety of states across the nation:  Illinois, Arkansas, Maryland, Nebraska, Minnesota, D.C., Massachusetts, Oregon, Florida, Pennsylvania, Georgia, Connecticut, North Carolina, New York, California, Washington, Texas, and Virginia, just to name a few.  The membership roster is comprised of a wide range of persons across various industries and business sectors including college students, retirees, business owners, corporate executives, ministers, and educators.
As Club President Bolden relies on his strong administrative team to help keep things rolling smoothly:  Derek Harps, Treasurer; James Garvin, Chaplin; Bernard Johnson, Activities Director; Bob Keene, Secretary; Patrick Diamond and Terry Harps, Co-Chair Fundraising-SLGF.
"I feel that our Club can help maintain old friendships while it continues to build new ones," said Bolden who is proud to announce the Club's 501(c)3 status.
Among the accolades and mentions during the 30th celebration from President Bolden were his heartfelt thanks to everyone who participated in the celebration.  "Congratulations to Raymond Washington as the recipient of our 4th Annual Tilman Avery Sportsmanship Award; and special thanks to Terry Harps and Patrick Diamond, SLGF Fundraising Co-Chairs for their extraordinary efforts."
"Thanks, Derek Harps, James Garvin, Chill Pierce, Terry Harps, Bob Keene, Patrick Diamond, BJ (The DJ) Johnson, Neil Harps.  None of this would be possible if not for each of your unselfish efforts.  Curtis Charles, you should know your efforts and support will never be forgotten."
In addition to their vast charity work,  on June 10, 2017, Mia Alvarado, Executive, Director at Roxbury Youthworks and her staff welcomed President Bolden, his lovely wife Michele along with fellow Spoilers Tom Perry and Jerry Womack to their offices at 841 Parker St, Roxbury Crossing, Massachusetts.  There, the group heard from Roxbury Youthworks staff about the many rewards, challenges, and passion they have found in their work.  "Our $4,000.00 Sharone Lee Garvin Fund check will definitely provide counseling opportunities for some young folks in the greater Boston area this summer," stated Bolden.
The work of Roxbury Youthworks helps save at-risk teens by providing services and support in hopes of keeping them from incarceration, teen prostitution, child trafficking or worst, death; and the Sharone Lee Garvin Scholarship is a tax deductible 501(c)3 charitable fund that supports sending underprivileged youth to summer camps.   To date, the fund has supported over 900 young people in multiple cities over the past three summers.
As demonstrated for the last 30-years, the Spoilers Men's Golf Club is serious about making a positive difference in its community, way beyond the golf course.
THE MISSION
The mission of "The Spoilers"  is to provide opportunities for fellowship, spiritual enrichment, networking and support through sport and social activities.
Through fellowship and brotherhood, they seek to provide outreach to men at risk and to expand the group to include young men, which provide opportunities for role modeling and mentoring.
Community service shall be an outcome of this brotherhood and fellowship. Therefore, the organization is committed to providing scholarship opportunities for the youth in their perspective communities to attend summer camps and youth golf programs.
"The Spoilers" value honesty, integrity and accountability, through an ongoing process of planning, assessment, and reflection. They work continually to improve their effectiveness and strengthen their mission.
For more information on the Spoilers Men's Golf Club visit their website: SpoilersGolfClub.com

Recommended For You.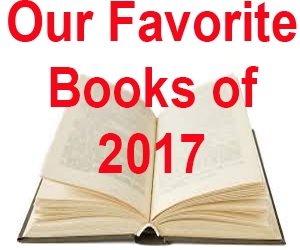 Our pick of most notable books. Last year, African American Golfer's Digest editorial staff read a wide variety of fiction and non-fiction books, making