(by Edward S. Wanambwa)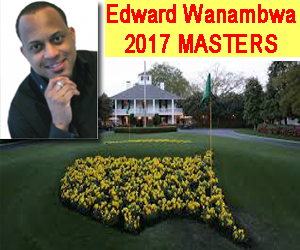 The 81st edition of the Masters Tournament and the first of golf's four major championships was held at Augusta National Golf Club, April 6, – Apr 9, 2017, in Augusta, Georgia.
After 73 attempts Spain's Sergio Garcia finally broke into the winner's circle and donned the coveted Green Jacket at the 2017 Masters. Garcia and England's Justin Rose battled down the backstretch for an exciting finish to the 81st Masters Tournament.
Garcia survived a missed putt on the 18th hole in regulation and went into a playoff with Rose on Sunday. Garcia and Rose matched closing 69s for 9-under 279 totals. Garcia was two strokes down after 12 holes and allowed a three-shot lead to disappear on the back nine. Despite his previous meltdowns in major championships, Garcia found the game he needed and pressed on.
Garcia made par at the 13th after taking a one-stroke penalty for an unplayable lie. He followed that up with a birdie at the 14th from 6 feet. He then went on to score an amazing eagle on the par five 15th hole after his approach shot ricocheted off of the flagstick.
Rose birdied the 15th to keep a share of the lead but gave the lead back with a bogey at the 17th hole. After trading pars on the 18th hole in regulation, Rose and Garcia headed back to the 10th tee for a playoff. Garcia was faced with a slippery five-foot putt to claim his first major. Unlike the putt he missed in 2006 at the Open Championship versus Padraig Harrington, Sergio stepped up and drained it.
The 81st Masters lived up to its billing despite the fact that former world number one and 4-time Masters Champion Tiger Woods skipped the tournament citing health issues. Sergio Garcia can no longer be called the best player 'NEVER' to win a major. He showed a more mature and resilient Sergio and proved to the world and himself that he has the game and nerve to compete on the world stage.
Recommended For You.
By AAGD Staff Cameron Champ has a second opportunity to spread his wings on the PGA Tour this coming season.   As