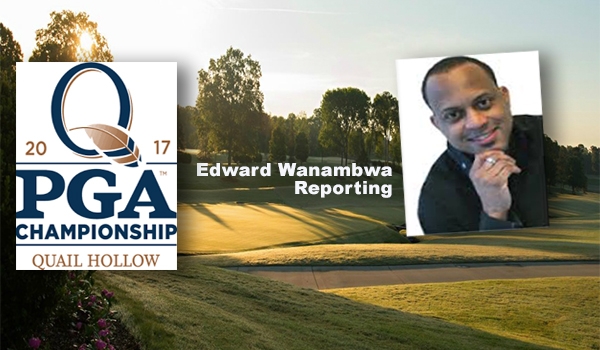 August 12, 2017
At the world's best players arrived at the Quail Hollow Golf Club in Charlotte, NC this week, they have faced an entirely new course than they had played in the past. In preparation for the 99th PGA Championship, Quail Hollow was renovated in approximately 12 weeks adding new grass to all 18 greens, building three new holes, adding a bunker, adding Augusta National-like sand to the bunkers, removing trees and lengthening the 11th hole by 34 yards. As conditions continue to stay warm and dry the changes along with the U.S. Open Bermuda rough makes for a very difficult golf course for wayward hitters.
PGA Tour Pro Kevin Kisner sits atop the leaderboard at -8 and seems to very comfortable with the course. " I played here quite a few times and my family lives about 2-hours away and I know how to read these greens. I feel really confident that if I can keep the ball in the fairway and stick to my game plan, I will have a great week".
Phil Mickelson celebrated his 100th Major earlier this week, but unfortunately, he will not play this weekend at Quail Hollow, missing the cut after finishing at +11 for the Championship.
At 2:30 PM on Friday, weather warning signs were posted on the golf course due to inclement weather approaching the area. The second round of the 99th PGA Championship was suspended by rain on Friday afternoon for a total one hour and 43 minutes. Play was suspended at 4:43 p.m. and resumed at 6:26 p.m. On Saturday morning, second-round play resumed at Quail Hollow at 7:27 a.m. and wrapped up at 8:51 a.m.
Hideki Matsuyama blended bogey-free golf with seven birdies to record the low round of the Championship, a 64, on Friday afternoon. He enters the 3rd round ties for the lead at -8. Hideki Matsuyama's three wins are tied with Jordan Spieth and Dustin Johnson for the most on the PGA TOUR this season.
Stay tuned….
Edward. S. Wanambwa
Senior Editor
African American Golfers Digest
Edward S. Wanambwa is a journalist, TV and radio personality and highly sought after as one of America's most notable speakers and expert commentators on golf. He hosts a weekly TGX Golf Radio Show and is a frequent guest on The Golf Channel and ESPN networks.  Find him on Facebook.

Recommended For You.
Barbados born, Berklee School of Music-educated saxman Elan Trotman takes his jazz performances to another level of expectation. His "all