Registration for 2019 Drive, Chip and Putt local qualifiers is now open on drivechipandputt.com. Expanding to 288 local qualifying sites this year in all 50 states, DCP continues its aim of making the initiative increasingly accessible to participants across the country. Local qualifying, organized by all 41 sections of the PGA of America, will begin in May of this year and continue throughout the summer months. Regional qualifiers will take place in September, with 80 boys and girls advancing to the 2019 National Finals at Augusta National Golf Club on April 7, 2019.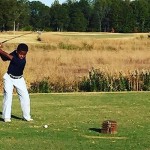 RELATED ARTICLE: 12-Year Old Quincy Ahlias Leonard to Represent Alabama in Regional Drive, Chip & Putt, at the Honors Course in Chattanooga, TN
This year's National Finals are set to take place Sunday, April 1, 2018, on the eve of the Masters Tournament. Thirty U.S. states and one Canadian province are represented in this year's group of National Finalists, who advanced through local, sub-regional and regional qualifiers to punch their ticket to the Augusta National. The National Finals will be broadcast live on Golf Channel.
More information on the 2018 National Finalists and a listing of qualifying events available this summer can be found on drivechipandputt.com.
Recommended For You.
By AAGD Staff Cameron Champ has a second opportunity to spread his wings on the PGA Tour this coming season.   As