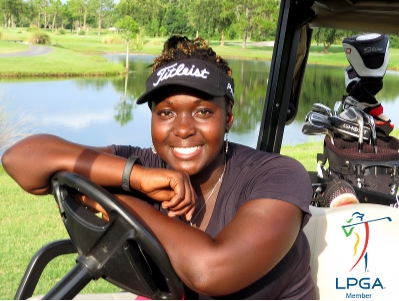 Tampa, FL (April 3, 2017) – Among the latest Class A Members of the PGA is professional golfer Mackenzie Mack. A Las Vegas, Nev., native who currently resides in Tampa, Fla., Mack had a long, decorated junior golf career. Now age 28, she becomes the fifth African American woman in history to obtain Class A PGA Membership and the fourth to obtain both LPGA and PGA Class Membership.
Under her belt Mack has years of experience, having played for the Tiger Woods Junior Golf Team for 3 years honing her skills, then going on to represent Southern Nevada on the Girls Jr. America's Cup Team for four years. That diligence took her on to the First Tee of Southern Nevada where she played in The First Tee Open at Pebble Beach for two years.
As a high school boys and girls golf coach, and a coach for the First Tee of Tampa outreach program, Mack provides golf instruction to all age levels. In 2004 and 2005 GolfWeek recognized her as one of their top 100 junior golfers in the country. In 2016-2017 she was included as one of Golf Digest's Top Young Teachers and, that same year scored a spot on the African American Golfer's Digest list of Top African American Golf Instructors.
In 2006, Mack became the First African American woman to play for the Indiana State University Golf Team. Following graduation in 2011, with a B.S. in Business and Masters in Business Administration, she embarked on a professional golf career, playing three seasons on the Suncoast Tour and held status on the Symetra Tour (the premiere developmental Tour for the LPGA). Currently, Mack serves as Program Director for the First Tee of Tampa Bay and is Secretary of the Southeast Section for the LPGA Teaching and Club Professionals. She has written and published two books: "Women's Golf College Directory" and "Men's Golf College Directory".
"Becoming a member of first the LPGA and now the PGA of America are my greatest accomplishments to date, said Mack of her many golf accomplishments. "Membership with both the LPGA and PGA of America is the highest honor that one can achieve in the golf industry. I am proud to join such an elite class of golf professionals and hope to use my new status to welcome many more diverse professionals to the game of golf, the LPGA and now the PGA of America."
The PGA of America has more than 28,000 men and women PGA Professionals of which 159 are African American, 1,193 are women and only four are African American women. The other four women who have accomplished this amazing feat are golf legend Renee Powell who became the first woman in history to obtain PGA membership in 1996; Maulana Dotch; Sherri Pla; and Ashley Nicks.
Contact Mackenzie Mack at her website mackenziemack.com or visit her Facebook page.


Recommended For You.
Lakareber Abe was the lone black golfer to play in the 2017 National Collegiate Athletic Association (NCAA) Division I Women's