February 7, 2018—To quote the one and only noted author and golf writer Pete McDaniel, who, in his Feb 12, 2017 blog, wrote about golf "An industry consistently promising to mirror America in diversity but just as consistently falling short of that promise." Pete further stated that "The inequity has long been a bone of contention addressed by industry leaders, who so far have talked up a change but delivered little in the way of progress."
In his distinguished career, Pete has not, does not and will not back away from the truth. I am simply trying to march and act in a way in which Pete and millions of others would approve. I am constantly reminded that golf has indeed accomplished much but still has so much further to go and in its own way is trying but by my calculations is just not fast enough. If golf were a player, it would be assessed penalty strokes for slow play from the perspective of women and people of color
A statue of Tommie Smith, center, and John Carlos, right, was installed at the Smithsonian Institution's new National Museum of African American History and Culture in 2016.
This Diversity and Inclusion movement started in a meaningful way— from my point of view— in 1961, when the PGA of America removed its Caucasian-only clause. It happened again, in a personal way, when in 1990, I met Louis J. Willie, a black businessman in Birmingham, Alabama. He became an honorary member of the Shoal Creek Country Club near Birmingham, Alabama. The first Black person to hold any type of membership in the club. The club was under serious scrutiny by the public and the PGA for its white only membership policy and was scheduled to host the 1990 PGA Championship. The PGA was even considering moving the tournament because of the outrage.
Certainly, there have been other seminal moments that captured mine and the consciousness of America and even the world such as Tommie Smith and John Carlos raising their black-gloved clenched fists at the 1968 Olympics. They took off their shoes to protest poverty. They wore beads and a scarf to protest lynchings. John Carlos also stated that he even covered his uniform to "reflect the shame I felt that my country was traveling at a snail's pace toward something that should be obvious to all people of good will."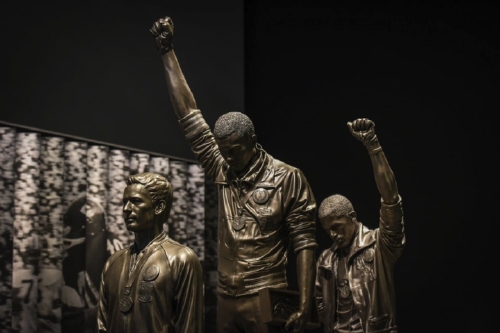 These events are significant to me because the people and institutions involved took action, albeit long overdue, in a significant and meaningful way. A way in which I and others like me could understand, appreciate and even applaud.
Actions do and always will speak louder than words!!
As it relates to golf, did you know that the PGA TOUR has at least 20 measurements and rankings for each and every player on its tour? (See Chart) By comparison, the golf industry has not measured or ranked itself in the categories needed to reflect its commitment to diversity.
PGA Tour Standard and Supporting Stats
1.     DRIVING DISTANCE
2.     DRIVING ACCURACY
3.     GREENS IN REGULATION PERCENTAGE
4.     EAGLES (HOLES PER)
5.     BIRDIE AVERAGE
6.     SCORING AVERAGE
7.     SAND SAVE PERCENTAGE
8.     FEDEXCUP SEASON POINTS
9.     OFFICIAL MONEY
10.  OFFICIAL WORLD GOLF RANKING
11.  TOTAL DISTANCE
12.  FAIRWAYS HIT
13.  GREENS HIT
14.  # OF HOLES
15.  # OF BIRDIES
16.  TOTAL STROKES
17.  # SAVES
18.  # OF WINS
19.  YTD VICTORIES
20.  Total Points
How is golf funding its Diversity and Inclusion Initiatives?
How much is golf spending with Minority Vendors? Lets Measure That.
But wait, according to the April 4, 2015 article in Forbes magazine, "The State of the Golf Industry in 2015", the golf industry's economic impact is $70 Billion per year.
Its charitable impact is close to $4 Billion dollars per year through its 143,000 events and 12 Million participants.
The PGA TOUR alone generated $140 Million for charity in 2014!
In fact, golf raises more money for charity than Major League Baseball, the National Basketball Association, the National Football League and the National Hockey League combined!
But it doesn't know how much it is spending with Minority companies? Oh, come now!
Other Golf statistics tracked are:
Youth ages 6 -17, 3 Million Participants
Millennials ages 18 -34 6.3 Million Golfers
25 Million Americans Play Golf at 15,350 facilities
Golf supports 2 Million Jobs and $55.6 Billion in Wage Income
One thing for sure, Golf does know how to count and keep track of the numbers that matter!
Source: https://www.forbes.com/sites/darrenheitner/2015/04/04/the-state-of-the-golf-industry-in-2015/
So I ask another question, golf leaders say that they want golf to look like America.  So when will golf look like America?
Here is what America looks like according to the 2010 Census
| | | |
| --- | --- | --- |
| Total population | 281,421,906 | 100.0 |
| Male | 138,053,563 | 49.1 |
| Female | 143,368,343 | 50.9 |
| | | |
| --- | --- | --- |
| White | 211,460,626 | 75.1 |
| Black or African American | 34,658,190 | 12.3 |
| American Indian and Alaska Native | 2,475,956 | 0.9 |
| Asian | 10,242,998 | 3.6 |
| Asian Indian | 1,678,765 | 0.6 |
| Chinese | 2,432,585 | 0.9 |
| Filipino | 1,850,314 | 0.7 |
| Japanese | 796,700 | 0.3 |
| Korean | 1,076,872 | 0.4 |
| Vietnamese | 1,122,528 | 0.4 |
| | | |
| --- | --- | --- |
| Hispanic or Latino (of any race) | 35,305,818 | 12.5 |
| Mexican | 20,640,711 | 7.3 |
| Puerto Rican | 3,406,178 | 1.2 |
| Cuban | 1,241,685 | 0.4 |
| Other Hispanic or Latino | 10,017,244 | 3.6 |
Source: https://factfinder.census.gov/faces/tableservices/jsf/pages/productview.xhtml?src=CF
So pardon my frustration when these and other questions about golf can't be answered in straight simple terms. Now that I have advanced in years, I am less and less patient and don't feel a need to be satisfied with statements posing as answers like "We are working on it"
That is just not good enough, I and others need answers that clearly demonstrate that the problems, issues, and matters of Diversity and Inclusion are being handled with a sense of urgency with timetables and measurements that ensure there will be answers which satisfy everyone. Anything else is simply not addressing the issue!
So with that, I and the African American Golfer's Digest (AAGD) have decided after much deliberation and prayer to start a petition drive to capture the sentiments and signatures of its readers and supports regarding the establishment of a fund that fosters and hastens diversity and inclusion in the golf industry. This fund, to be called the "Grow The Game" fund, could be accessed in a proper and systematic way by any and all legitimate entities seeking to address the issue of more women and people of color represented in all aspects of the golf industry including Recreational and Competitive play, Supplier Diversity and Workforce Inclusion.
Read this Resolution and sign up and show your support for this effort. If you want, send an email to me at jbeatty138@aol.com  and/or to AAGD Founder and Publisher at debertcook@aol.com further expressing your thoughts on the matter.
The results will be presented to golf's governing bodies in an effort to move each of them to support the initiative and take the Diversity and Inclusion effort to a higher level.
Examples of how the Fund could be used:
Anyone or all of the 41 PGA Sections developing a program to address recruiting more women or people of color into its ranks could access the fund
Efforts by the LPGA to encourage and teach young women and women of color to become LPGA professionals
Any First Tee program specifically addressing the needs of young women and youth of color could access the fund
The Advocates Tour could access these funds to help develop new players and expand its reach
Any community-based program that works with girls, young women and youth of color could access the funds
Historically Black Colleges and Universities (HBCU's) and Predominately Black Institutions (PBI's) could access this fund to start, expand and support their intercollegiate competitive golf teams
Any NCAA or NAIA college or university that develops a program or programs to introduce women and people of color to the world of golf via careers, internships etc.
The USJGA could access the fund to develop and recruit players for its tournaments
Any High school that develops programs to promote girls and people of color into the game of golf
The USGA to recruit more girls and youth of Color to compete in its annual Drive, Chip and Putt competition
The PGA, LPGA and the USGA could access these funds to host business meetings, conferences and seminars regionally and nationally to encourage more supplier diversity
It is open to everyone and every institution committed to bringing this great game and industry to women and people of color
How is the "Grow The Game" fund funded?
Well, pretty straightforward, I am recommending a 10% surcharge to be added to all ticket sales to PGA, PGA TOUR, LPGA, USGA and Augusta National professional golf tournaments.
Based on some very conservative estimates, this fund could generate millions of dollars annually using the following analysis. The PGA TOUR events are attended by approximately 2 Million people annually (according to Statista) and assuming each ticket cost an average of $20, some $40 Million in ticket sales would yield $4 Million annually – minimum!
Keep in mind that this amount doesn't even include the LPGA, PGA, USGA and Augusta National!
What's more this fund is supported and funded by the fans! So these dollars would be passed through and could be channeled to the World Golf Foundation (WGF) for distribution through an appropriate grants application and review process.
The PGA touts that its fans are "the most valuable in sport "and are "the most giving", so a 10% ticket surcharge would not diminish golf's great appeal.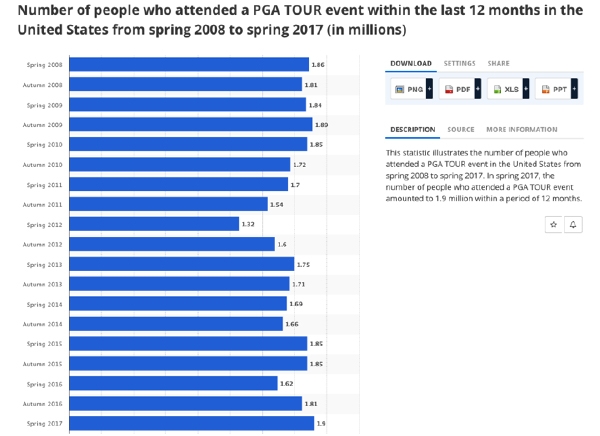 Source: https://www.statista.com/statistics/232141/pga-tour-event-attendance-usa/
Establishing such a fund would signal to the world that golf is serious about its diversity and inclusion efforts and in my opinion, would also send a loud message to non-golfers worldwide: Come on in, We want you, We value you.
I think untold thousands would respond enthusiastically to golf's beckon call. This would immediately bring in new fans, supporters and consumers. The potential editorial and earned media coverage alone would be worth millions of dollars to the golf industry.
This has not been done before.
This has not been done before to the best of our knowledge and the impact would be heard around the world. Golf wins and would keep winning with this effort. After all, I and AAGD love and cherish this great game and all that it can and should be for all people.
This following resolution was presented on Jan 24, 2018 at the Diversity Roundtable discussion held during the 65th PGA Merchandise show in Orlando. Some 55 individuals including folks like Clemmie Perry, Founder Women of Color Golf and Girls on the Green Tee.  Adrian Stills, Founder of the Advocates Tour who was a three-time All American at South Carolina State University, won three Florida PGA section events, 20 mini-tour championships, and competed in two US Opens. He played the PGA Tour in 1986-1987.  Ernie Ellison Jr., retired Director of Business and Community Relations for the PGA of America executive. Selina Johnson, Founder/President /CEO of the Hollywood Golf Institute which was founded in 1980 and incorporated in 1984 in Detroit, Michigan.  It is a non-profit organization, whose mission is to introduce urban, minority youth to the sport of golf.  LaJean Gould, Founder & President, Women in Golf Foundation in Atlanta, GA.  Michael Cooper, Chairman of the Golf 20/20 Diversity Task Force Initiative.  Jerry 'Hobo' Osborn, who has been a caddy on the Senior PGA Tour since the mid 1980's.  He's worked for just about all of the senior tour players including a win with Gary Player, Gary Grandison, Golf Coach of Alabama State. Craig Bowen, Golf Coach of Chicago State University and newly elected president of the Black Golf Coaches Association, a recipient of the Outstanding Leader in Golf Award (2013) and, Top African American Golf Instructor (2014) both presented by the African American Golfer's Digest.Bowen is also an inductee into the African American Golfers Hall of Fame (West Palm Beach, Fla.) and, served as Associate Producer for the documentary "Uneven Fairways", the story of African American golfers, produced by Moxie Pictures and featuring Samuel L. Jackson and Tiger Woods. Bowen also worked as a chief researcher for the book "Uneven Lies", a book on African American golf history, Leonard Smoot, Golf Coach of Miles College.  Desiree Walker, Founder of Roads 2 Par, and of course award-winning author, writer Pete McDaniel.
THE RESOLUTION
(One special note that this new petition would also include people with disabilities)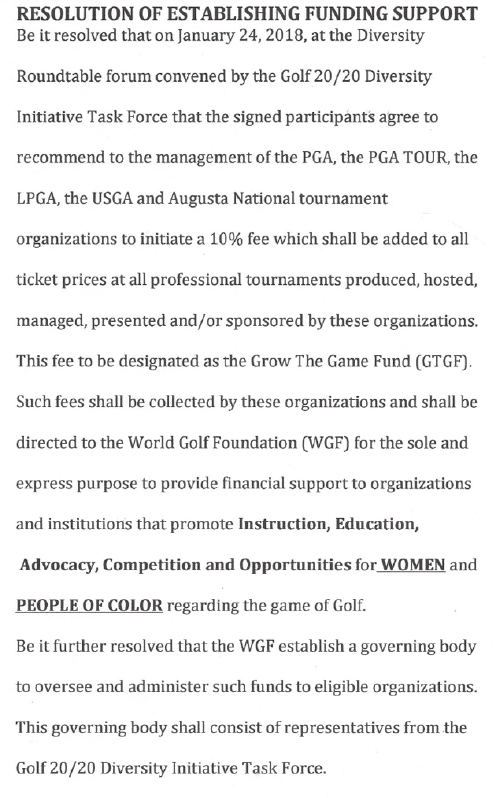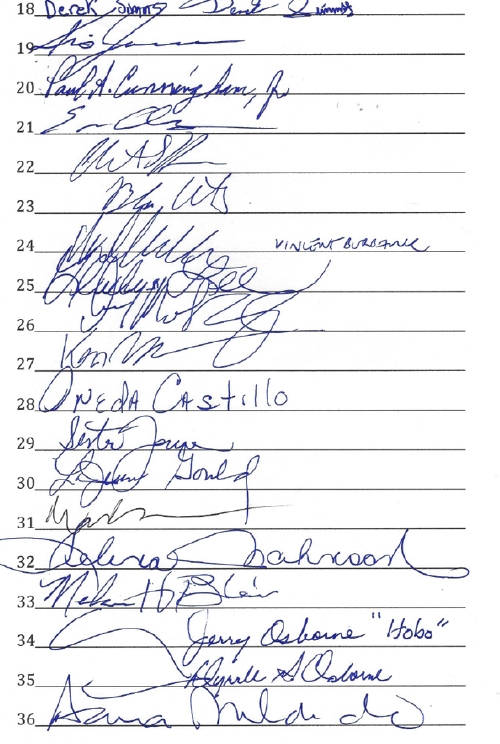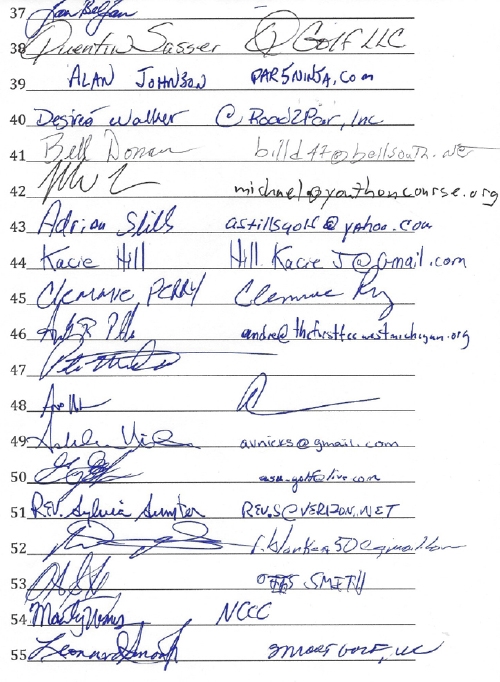 Please join us in spreading the word of the AAGD petition, send it to your clubs, businesses, associations, as we want to rock the world with the signatures and voices of all that want to be counted. We want thousands of signatures and supporters. AAGD will send the petition and your emails to the organizations named and seek to meet with each organization to gain their support for this unprecedented effort to change the world.
In the words of Pete McDaniel, " I'm all in won't you Join us? Sign Here.
RESOLUTION OF ESTABLISHING FUNDING SUPPORT
Be it resolved that the African American Golfers Digest calls for immediate and ongoing funding to support the various Diversity and Inclusion Initiatives for the game of GOLF.  Be it further resolved that the signed participants agree to recommend to the management of the PGA, the PGA TOUR, the LPGA, the USGA and Augusta National tournament organizations to initiate a 10% fee which shall be added to all ticket prices at all professional tournaments produced, hosted, managed, presented and/or sponsored by these organizations.
This fee to be designated as the Grow The Game Fund (GTGF).   Such fees shall be collected by these organizations and shall be directed to the World Golf Foundation (WGF) for the sole and express purpose to provide financial support to organizations and institutions that promote instruction and education,
Advocacy, Competition and Opportunities for WOMEN, PEOPLE OF COLOR and the DISABLED regarding the game of golf.
Be it further resolved that the World Golf Foundation establish a governing body to oversee and administer such funds to eligible organizations. This governing body shall consist of representatives from the Golf 20/20 Diversity Initiative Task Force.
Agreed To and Signed by the following Individuals.
(Please list your name and organization. Email is optional)
Recommended For You.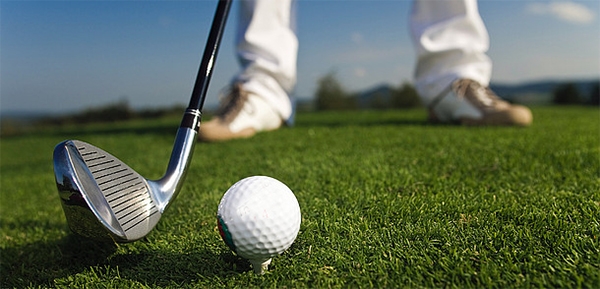 WHAT IS THE MODIFIED STABLEFORD? The Modified Stableford system allocates points based on the number of strokes taken at each hole,