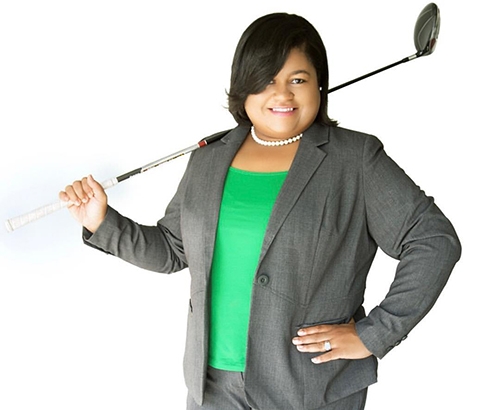 Patrina King is the Founder and CEO of Golf Women Mean Business (GWMB), an organization where accomplished women use golf as a tool for establishing strategic partnerships and business/career building. King started it as an education company to teach women how to get into the game and then refer them to golf leagues and other organizations.
GWMB was launched by King in 2014 and incorporated on April 20, 2015.  The non-profit arm of the organization is Golf Women Mean Business Charities, Inc.
Growing up in Eatonton, Georgia, King, a dedicated human resource professional, entrepreneur and youth advocate, enjoyed the core values that were instilled early in her there.  She feels that belief in one's self along with perseverance definitely pays off. Today, at 36, her organization not only gathers women of like minds together at their Stone Mountain (GA) home golf course and distinct from most other women's golf organization- GWMB offers a unique certification to those who wish to use golf as a business-networking tool.
"My dad (Larry Dunn) started teaching me how to play golf at the age of 5. By the age of 7, I would have been considered competitive," says Patrinia who sports shoulder-length hair and played golf throughout high school, receiving an amazing 36 golf scholarship offers.
"I actually did not go to college to play golf because of several factors, and the limited number of girls playing at that time. However, I would love to revisit these opportunities," says the current member of the Women's Solidarity Society, a society within The National Center for Civil and Human Rights.  King is also a member of the National Coalition of 100 Black Women, Inc. MECCA Chapter.
King is a firm believer in golfers receiving professional instruction.  As a student, she has worked with top LPGA Instructor and Certified Fitter Oneda Castillo, LPGA. "Well… my dad probably did more fussing than teaching back in the day. The biggest benefit was having the ability to correct things fairly quickly. Now, the benefit is being able to enjoy the game when things are being done correctly."
"I started the organization because of a HUGE opportunity that I blew on the golf course."
In her first business, a background investigations firm, Patrina used her golfing skills to network with decision makers. While hanging out at the golf course, she finally landed a 9-hole meeting with a company CEO. When I wrapped my mind around the fact that he had agreed to play with me, I convinced myself that I needed him to know that if I get his business, I will be sure to do a great job." Being young, female, and black, Patrina admits that she felt like she needed to convince this business prospect of her abilities.
"So we played the 9 holes—and I made sure to play by all the rules. I ended up beating him really bad, and he never spoke to me again!….The lesson I learned that day was you don't beat the person you are trying to get business from."
"I know how hard it was to land that 'meeting' and to get that kind of quality time from this high-level businessperson. So, after my mentor, Nancy Je Lewis, consistently telling me that other women need to know about this so they can learn from my mistake, GWMB was born."  The one-time annual GWMB membership fee varies between $89- $97.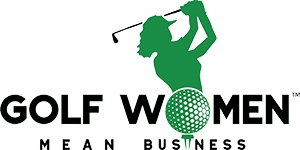 After the first year, Patrina discovered that the women of GWMB who learned together wanted to stay together and play together. GWMB's sister organization is Golf Gals. "Golf Gals was mostly to play rounds with some education—GWMB was education with some rounds of play—so it became the perfect partnership."
Golf Women Mean Business offers a Business Golfer Certification™ to women who are looking to play golf for business. This certification is obtained by completing 3 days of intensive business golf training and then an assessment. The certification was created because businesswomen are normally asked to go to lunch or meet for coffee, but never for golf. That is not the usually the case for businessmen. "This certification has a unique seal and certificate that women can place on their desk, their business cards, websites and LinkedIn profiles."
Patrina's golf handicap has gone up (from an 8 to 14) "…thanks to me relaxing and enjoying the game," she says. 5'7" Atlanta golfer who feels blessed to have come so far in her life. Outside of golf, she stays active with community service, public speaking and attending social networking events.
A major goal for GWMB is, "to help at least one thousand women become certified in business golf by 2020, so that we can have a more realistic representation of the business world on the golf course— More women getting off the hamster wheel in the office and on the golf course with each other."  GWMB facilitates this by providing special play-dates, tournaments, and special events.  The group's Facebook page carries plenty of updates on rounds and activities.
Patrina, a married mother, with a daughter, graduated from DeVry University with a B.S. Degree as a Technical Manager and a concentration in Human Resources. She holds an MBA from the Keller Graduate School of Management.  She formerly worked as an HR Consultant but now devotes her efforts toward GWMB full time.
Most notably, King is the Founder of Women's Golf Day in Georgia.  This all happened in February of 2017 when the Georgia General Assembly approved her request to have a Women's Golf Day specifically for the women in Georgia. "Governor Nathan Deal recognized our efforts and the importance of having women play golf. Therefore, I received a proclamation from him declaring June 6th as Women's Golf Day in Georgia," says King.  The recognition is held in conjunction with the National holiday.  King was also honored by the Atlanta Women in Sports organization and recently inducted into the Who's Who in Black Atlanta Publication.
Although the golf visionary enjoys non-competitive play, this year, at a Hampton University alumni tournament in Maryland, Patrina's team won 1st place.  When asked which professional golfer she most admires, "Renee Powell. I admire her dedication to the sport and above everything else, her journey. Even though I did not continue on to be a professional tour player, I feel like, without her, there would be no me."
Recommended For You.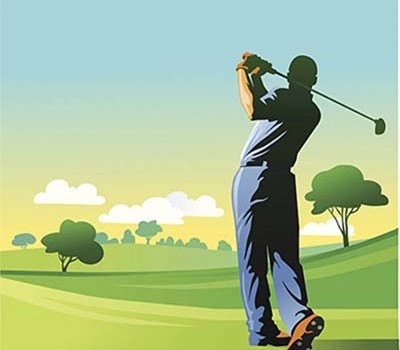 It's been a hot topic in recent years, whether or not PGA Tour players hit the golf ball too far.