Travel with African American Golfer's Digest on this exotic vacation to enjoy the splendor of Panama.  Nongolfers are always welcome to join us, there is so much to do and see!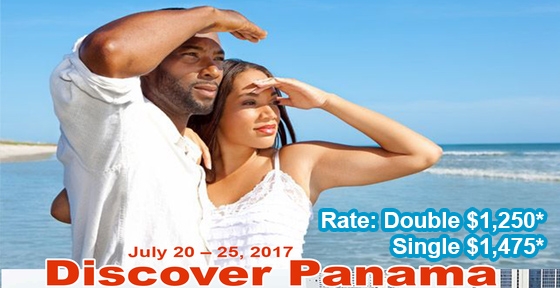 Itinerary
July 20-July 25, 2017
 
 Rate:
 Double $1,250.  Single $1,475 
 
Thursday, July 20

Arrival

Upon arrival clear customs and immigration, gather your luggage then locate your representative for transfer to the hotel.

Evening Welcome Soiree at a local restaurant will give you the opportunity to meet your fellow travelers, new friends, and guests!

Accommodations at Las Americas Golden Tower Hotel.  Just 25 minutes from the airport, located on Balboa Avenue and 53th Street Marbella, in the financial center of Panama City. Hotel Las Americas Golden Tower Panamá offers exclusiveness and comfort. Two hundred eighty-five upscale rooms and suites with the best views of Panama City; with gourmet restaurant on the 29th floor, international cuisine restaurant, gastronomic zone with a great variety of quality products in one place; bars; heated indoor pool; spa with three cabins for massages, Turkish bath, sauna and flotarium (with mineral salts for massages and treatments); gym; beauty salon; business center with panoramic terrace and executive offices; the largest executive lounge in Panama City, located on the 28th floor; and seven meeting rooms. All of this makes Hotel Las Americas Golden Tower Panamá your best lodging option in the city for business and leisure.


 


 
Friday, July 21

Meeting

·         Breakfast included at the hotel

·         9:00 am tee time, Tuscan Country Club


(9AM optional business meeting for non-golfers)



·         Remainder of the day on your own at your leisure

·         Accommodations at Las Americas Golden Tower Hotel

 
 
 
Saturday, July 22

Canal Transit

·         Breakfast included at the hotel

·         Pick up at your hotel for a transfer to pier for transit. Time to be determined the day prior

·         Check in at the pier for a Partial Panama Canal Transit, to include lunch.


This voyage through the canal has various start times so budget the entire day.   After being transferred to the pier, you will board the Ferry Boat, a vessel that will take you through the Miraflores Locks, Pedro Miguel Locks, and the Culebra Cut. The Culebra Cut (called this because it twists and turns like a snake), is a fascinating geological area where the canal was carved through the Continental Divide. This area is susceptible to landslides, and you will appreciate the amount of work required to maintain it. During your voyage, you will be able to see the huge ships traversing the canal and the tugboats assisting them, as well as the up-close operation of the canal. Traveling through the locks, you will enjoy the experience of being raised or lowered to the level of the other ocean. You will disembark at Gamboa Pier and be transferred by bus back to the Flamenco Pier. Here you will meet your representative for transportation back to the hotel. This tour includes lunch and an English speaking guide. The transit may be in reverse order.

Tour: 6 hours total including transfers to and from the hotel.  Start time will be determined closer to the travel date. (7am-10am, depending on Canal traffic.)

 
 
 
Sunday, July 23

City & Canal Tour

·         Breakfast included at the hotel.
9:00am
pick up for a full-day Panama Canal and City Tour, to include lunch. The Panama Canal and City tour is an half-day tour departing at 9:00 am and returning at 1:00 pm to the hotel. You will start your day with a visit to the ruins of Panama's first capital, known as Old Panama or Panama La Vieja. This city was founded in 1519 as the first Spanish settlement on the Pacific Ocean. Spanish expeditions to conquer other South American colonies left from here and returned with vast quantities of gold, attracting the attention of pirates like Henry Morgan. When this notorious pirate looted the city in 1671, the whole city was destroyed by fire, but the ruins of several impressive structures remain to this day. You will see the ruins of the Spanish fortress, the cathedral, and the Bishop's House, as well as a museum detailing what life was like in Old Panama. Next, you will travel to Casco Antiguo, the Colonial City, which is the historic center of the modern capital.  Following lunch (optional), you will head through the former "Canal Zone" to see the Miraflores Locks visitor center. This includes the entrance to the Museum, a movie on the new canal, and access to the viewing locations. From the observation deck, you can watch as ships cross the Panama Canal, and the fascinating process as they pass through the locks. It is available in private or as a seat in bus. Sequence and visits subject to change.Remainder of the day is at leisure/or choose to golf at Radisson Summit Golf Club.

 
 
 
Monday, July 24

Embera Indian Village

·         Breakfast included at the hotel

·         8:30am pick up for an Embera Indian Village Tour, to include lunch. The Embera Indians are one of seven indigenous tribes in Panama, and this tour will give you a fascinating look into their way of life. 

This full day tour begins at 8:30 am and returns at 4:00 pm. You will be transferred from your hotel to the shores of the Chagres River, where you will board a Piragua (dug-out canoe), and travel a short ride up the river accompanied by an Embera Indian guide. When you arrive at their community, you will be welcomed by tribal members dressed in their traditional clothing and escorted past their huts and into the community area.

The chief of the village will teach you about the history of the tribe, their origins, and their lifestyle. The Embera will gladly demonstrate their native dances, their beautiful craftwork, and their cooking skills.

You will be served a delicious lunch of fried plantains and tilapia fish, one of their traditional favorites. You will also be able to shop for their handiworks if you would like to. You will have the opportunity to take a short hike over rocky terrain to a crystal clear waterfall for a refreshing swim, and then return by boat to the bus and back to your hotel. This sequence may change with waterfall first depending on weather and village request. Hiking shoes that can get wet are recommended. We also recommend wearing your swimsuit under your clothes and taking a towel.

 
 
 
Tuesday, July 25

Departure

·         Breakfast included as flight time allows

Pick up for a transfer to Tocumen Airport for your
departure flight.

*itinerary subject to change.
Your flight to Panama is Not Included.  Please source the web and travel booking websites to find your airfare cost and plan your arrival fo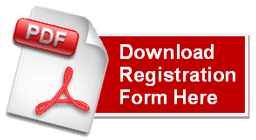 r that date the travel program begins.
Golf rounds and transportation to the course are additional and we will secure a group discount.
This information will be available at a later date.  In the meantime, please estimate $89-$150 for golf, per round.  Includes range balls + cart.  Please estimate $35-$75 for golf club rental.
Please download and complete the Travel Registration Form to secure your space.  For questions, please contact PAT PRITCHARD at pat@condortoursandtravel.com
Looking forward to seeing you in Panama!
Recommended For You.
You have no doubt already heard that new golf rules will come into effect on January 1st, 2019. This will