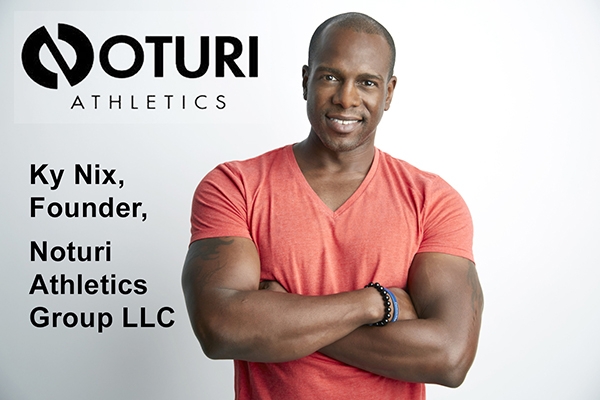 What do you get when you mix a passion for creating exciting artistic fashion with a spirit of fitness, design, and entrepreneurship? That result would be Ky Nix, the Founder of Noturi Athletics Group LLC. The former fitness coach who hails from New York combined all of his creative senses to inspire his line of athletic wear that looks as good as it feels.
Designed for those who seek a life of adventure and excellence, the high-quality performance apparel ignites an appreciation for bodily excellence while motivating athletes at any skill level to perform at their best, potentially aiding in helping you "TAP YOUR POWER." The clothing line is sleek with a contemporary look and appeal, perfect for athletes, trainers, performance artists and professionals.


Beautifully designed and constructed, Noturi Athletics apparel is made with fabric that moves with your body, so you'll not find yourself 'pulling" and 'tugging" at your garments during workouts—like so many other clothing brands.
Noturi Athletics has a full line of quality lifestyle products for men and women that include tees, tank tops, bucket hats and caps. The line also comprises exciting styles and colors of its very popular LIQUID FIT compression garments (tops/bottoms) for women with all these great features:
Breathable for comfort and keeps the body dry
Styled for comfort and durability
High elastic waistband that allows maximum movability
Cell Phone/Money/Credit Cards thigh pocket compartment
4-Way Stretch fabric for mobility during all types of activities
Fabric: 80% Polyester / 20% Elastane
Hand Wash or Machine Wash (low)
All of the good stuff you're seeking in comfortable athletic wear is at Notouri.  If you're dedicated to pursuing personal excellence while looking and feeling good, you'll want Noturi Athletics as part of your game plan.
"Athletic fashion apparel designed to inspire and elevate communities and become the standard in sports, community and active lifestyles."—Ky Nix.
To learn more about Noturi Athletics visit NoturiAthletics.com
Recommended For You.
Through the PGA WORKS Fellowship program, Tajma Brown, 24, of Wilmington, Delaware, is blazing new trails for workforce diversification in