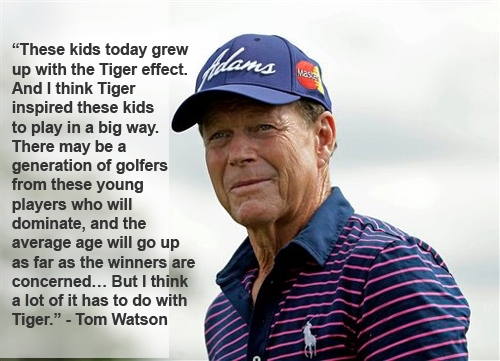 Golf Channel Notable Quotes
Golf Central Live From the Masters
Wednesday, April 5, 2017 (9 a.m.-3 p.m. ET)
Augusta National Golf Club
Augusta, Ga.
**Golf Central Live From the Masters continues tonight at 7 p.m. ET on Golf Channel.**
Six-time Masters champion Jack Nicklaus speaking on Golf Central Live From the Masters
Jack Nicklaus – "I think it will be more difficult tomorrow afternoon than it will be tomorrow morning, even though it will be cold tomorrow morning. This golf course is really tough when the wind is blowing and the greens start to firm. And when the greens start to firm, then the scores go up."
Nicklaus – "I think Arnold helped makes the Masters. But I think also, the Masters made Arnold. It raised the level of the Masters to the start of where it is today, because it's much bigger today… To come back here every year and to see the game progress, see the quality of play and the things they do on the golf course, it's pretty well thought out."
Two-time Masters champion Tom Watson speaking on Golf Central Live From the Masters
Tom Watson – I'm really good with not playing, because I've been thinking of not playing for several years. The golf course is too long for me. I'll definitely watch. And you know what, I still get butterflies in my stomach when I watch."
Watson – "These kids today grew up with the Tiger effect. And I think Tiger inspired these kids to play in a big way. There may be a generation of golfers from these young players who will dominate, and the average age will go up as far as the winners are concerned… But I think a lot of it has to do with Tiger."
Marc Leishman speaking with Golf Channel reporter Tim Rosaforte
Marc Leishman – "It can be pretty tough out here when the wind blows. I feel like it's going to be really important to be mentally strong. You're going to hit some good shots that will finish in bad positions, but that's going to happen to everyone. You've just got to hope that it doesn't happen too often."
Matthew Fitzpatrick speaking with Golf Channel report Todd Lewis
Matthew Fitzpatrick – "Last year I hit a lot of greens and that was really important for me. I think this year, it's really controlling your ball – that could be the key. The greens are going to be soft, so you might be able to be more aggressive. If they firm up over the weekend, we'll just have to see."
Justin Rose speaking with Lewis on Golf Central Live From the Masters
Justin Rose – "It's a course that I could also probably play without a practice round and feel competent. You still want to be 100% prepared for a major, but it's one course where I know my way around."

Patrick Reed speaking with Rosaforte on Golf Central Live From the Masters
Patrick Reed –  It's just all about positioning and where you want to put the golf ball. That just means if it's going to be really windy, it's the guy whose controlling their ball the best, and the one who doesn't get frazzled about it is going to be the one turning out the best score."
Henrik Stenson speaking with Rosaforte
Henrik Stenson – "I'm happy with the prep work… I feel like I know what to do around here. This is my 12th time. What I can't learn in those 12 [times], I don't think another five holes is going to make a difference today."
On Stenson
Notah Begay – "In the golf that I've seen [this year], the one thing that is off is his ball striking. Maybe this is the week where that clicks in for him."
Mark Rolfing – "I'm not too worried about his ball striking. To me the real issue is can he putt these Augusta National greens well enough to win the Masters."
On Bubba Watson
Rolfing – "Bubba's entire game is based around what he sees and how he can get his hands to create the type of motion that's going to get the club in position to hit a fade or a draw… I think he is probably – with the weight loss – having an adjustment of trying to sync up his hands and his timing. This is a perfect medicine I think for Bubba Watson right now to come back to a place he loves and is familiar with."
On Phil Mickelson
Rolfing –"He was putting all his marbles in that U.S. Open bag. I think he's stepped back a little way from that thought process. He still wants to win the U.S. Open, no doubt. But I truly believe Phil knows that his best chance for another major [win] right now is the Masters."
On Jordan Spieth
Colin Montgomerie – "He's had swing changes. He's done well and prepared well. He's my favorite this year. Coming in here third-ranked greens in regulation. It's a second shot golf course, and if he putts the way Jordan Spieth can putt, he can win again."
On Justin Thomas
Rolfing – "He's a good driver of the ball, but I in particular like his middle and long-iron shots. I like pretty much everything about his game right now."
On anticipated weather conditions on Thursday-Friday at the Masters
Montgomerie – "With the weather conditions as they are, I think we'll find some interesting guys on the leaderboard. Being 2-over after 5 and not worrying about it. Jim Furyk, Zach Johnson, guys like that can come forward tomorrow."


Recommended For You.
James Beatty, Executive Editor, African American Golfer's Digest February 7, 2018—To quote the one and only noted