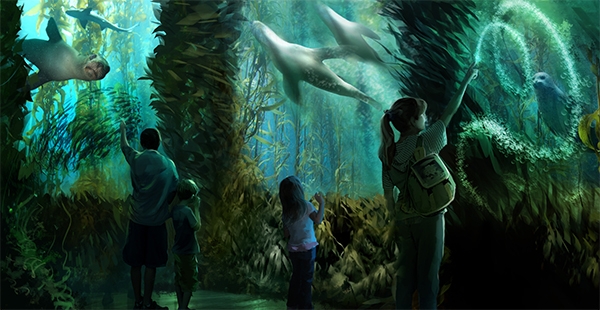 Oceans, the basis of all life here on earth, now sits in the middle of Times Square.  The experience, National Geographic Encounter: Ocean Odyssey is open.  The multi-million-dollar attraction is a combination of a series of about 10 darkened rooms, each of which presents an undersea scene with a twist.  The exhibit is perfect for all ages and families and involves a first-of-its-kind underwater journey that educates and enlightens visitors on animal life beneath the sea.
Using the latest technology, National Geographic takes a whole-heartedly approach to virtual reality with an interactive exhibit that makes for a great, unforgettable attraction for tourist and native New Yorkers.   Upon entry, you are glided down an escalator, with seafoam above, taking you beneath the sea, where you become able to touch, feel, and experience what life is like beneath the waves of the Pacific and Atlantic oceans.
During your journey, you'll be informed of exactly where in the ocean you are, what depth and how animals live.  You'll meet animal life face-to-face, such as adorable California Sea lions, fighting squid, killer sharks, and fish balls being devoured by predators.   The National Geographic Encounter is sort of like watching a large screen movie or visiting a Broadway show, but you get to be a part of this show.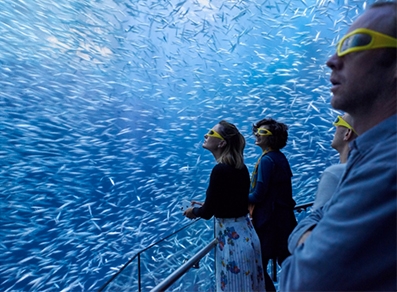 Wave your hands to make sea lions move around, find your footing in the Kelp room (room of mirrors) and discover a way to get out, stop your foot on moving sea creatures who quickly scamper out of the way, and other interactions with stingrays, whales and corral.
At the final exhibit room, it's the highlight, you wearing 3D glasses, at 120 frames per second, and 8K resolution, that put smack in the middle of all of the action.  You stand facing a huge, curved movie screen, where you'll never believe the up-close visuals are so.  Exuberant sound effects bring the scene even closer to reality!
You get all of the fantastic experience of being beneath the sea without getting "wet".  The interactive room gives visitors a real chance to learn about oceanic conservation and why clean oceans are so important to the human existence.  And don't miss the gift shop, located upstairs from the exhibit.  Because you'll want to take home some of these beautiful items.
A 15-year lease by National Geographic at the Times Square space makes sure that the exhibit (and other National Geographic experiences) will be around for a while.
Location: West 44th Street
Hours: Sunday—Thursday, 10 a.m.—10:30 p.m.; Friday and Saturday, 10 a.m.—midnight
Cost:  Approx. $40
A portion of the proceeds from your ticket purchase supports the National Geographic Society's nonprofit work in conservation, exploration, research, and education. National Geographic Society receives funds from National Geographic Partners LLC, funded in part by your purchase.
Recommended For You.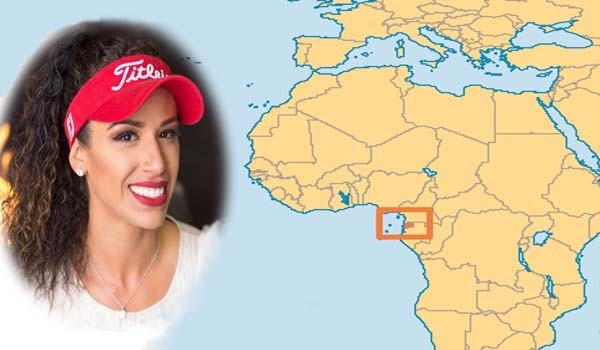 by AAGD STAFF His Excellency President Teodoro Obiang Nguema Mbasogo declared the 2017 3e Actuaries Open officially open when he visited