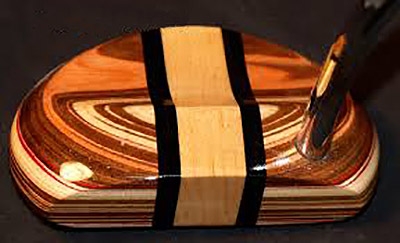 These unique putters are the best way to improve your golf game or design the perfect personalized gift. They are some of the most beautiful putters around.  Classy, elegant, smooth to the touch.  These custom wood putters are high-end with a superior feel and the legendary forgiveness.   Each putter is customized to fit the clients' height and putting style, so different lengths, lie, and lofts are available and each comes with a Lifetime warranty.
The natural grains of the exotic woods is selected to make each and every Musty Putter a one-of-a-kind product. Woods used includes cocobolo, bloodwood, Leopardwood, Maple, purpleheart and Tigerwood.

The company is truly focused on their customers, and David Musty, the owner, is no exception. David's tirelessly researching has continued to be the secret to great putting and perfecting his trade. David's background in custom home building, circle staircase design, and fine furniture construction made him perfectly suited to design and build the perfect wooden putting tool.  Now, his special touch is golf putters!  MSRP: $250+
https://www.mustyputters.net/store/

Recommended For You.
Celebrating, remembering and honoring golf greats among African American golfers is what we aim to do all year long.  However, during