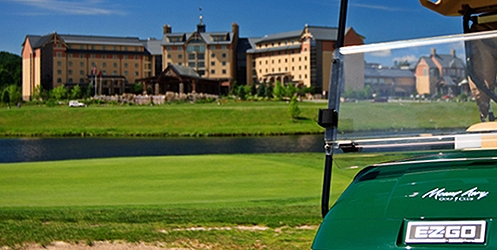 Set among tall pine trees in the wooded Pocono Mountains of northeastern Pennsylvania, Mount Airy Casino Resort is a welcome respite for city dwellers and others who seek a tranquil getaway surrounded by abundant nature.  The gold standard for golfing, the picturesque Mount Airy Casino Resort has been re-born with a more than 400 million dollar investment, which has transformed the property.
Just 90-minutes from New York City and Philadelphia, Pennsylvania, the resort offers AAA Four Diamond experience. 188 guestrooms and deluxe suites nicely accommodate singles, couples, and families. A hospitable and attentive staff greets groups arriving for golf, meetings, weddings, bachelor parties or other special events.  Check-in is seamless and efficient.
The immaculate facilities offer 51,000-square-feet of convenience with an indoor-outdoor swimming pool, a total of eight restaurants for onsite dining.
DINING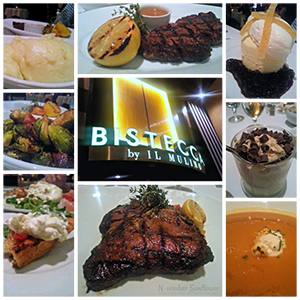 Bistecca, by IL Mulino, is the place to indulge in exquisite beef steaks and hand-crafted pastas. Gorge on delicious ribs, seafood, and chicken selections. The Buffet is ideal for lunch and dinner options offering an extensive buffet with amazing salads and desserts. There, on Friday's you'll find a grand Seafood Buffet. Sundays is their Signature Sunday Brunch.
Guy Fieri's Mt. Pocono Kitchen presents a cornucopia of signature and hometown favorites, with no boundaries when it comes to dishes crafted with heart and soul. Lucky 8, noodle and sushi bar, serves up fresh, traditional, Pan-Asian favorites like fried rice, pork dumplings, beef stew and noodle soup.
Red Mango—a yogurt parlor, offers plenty of all-natural non-fat treats with fresh toppings of fruits, nuts, and more. And, of course, a convenient Starbucks is onsite and breakfast is available daily with many tasty offerings. Nostalgia, a classic candy store, offers sweet treats all day long.

ACCOMMODATIONS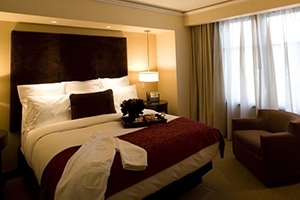 Families can ease into a Double Queen Room, which has two queen beds and can sleep up to four guests (five with the addition of a rollaway bed or crib). Comfort here is awaiting you for sure, and you'll not want for anything, not matter how long, or short your stay is.
All rooms are designed with your best interest in mind and equipped with comfy pillows, an abundance of natural daytime light, blackout curtains, Keurig coffeemakers, fully stocked mini-bars, and complimentary Wi-Fi.
ENTERTAINMENT
After hours, guests can experience the onsite Gypsies Lounge and Nightclub where great dance music is spun by some of the coolest disc jockeys.
WET, the ultra pool, has a poolside bar and luxurious cabanas with daybeds and TV's keep you comfortable in style. The resort also brings in plenty of top-notch entertainers and holds concerts and comedy days/nights. Big name acts that have headlined include Smokey Robinson, Brian McKnight and Mase.
SPA
The world-class spa at Mount Airy Casino Resort will sweep you away with pleasure. The expert staff will accommodate you for featured treatments, facials and traditional salon offerings for facials, body wraps, makeovers, manicures and new hairstyles. Reservations are required.
The Mount Airy Golf Club opened in 1980 and was renovated in 2009 to include a new irrigation system and new cart paths.  From various parts of the golf course, guests experience one-of-a-kind views of the Pocono Mountain scenery, unique to any golf course in the tri-state area.  Golfing here provides a legendary experience you'll remember forever. That's because it is designed after Sports Illustrated's "Best 18 holes in Golf," designed by golf architect Hal Purdy, each hole is replicated from some of golf's most legendary holes at Championship courses across America.
Top of the list is Pebble Beach Golf Links, Oakland Hills Country Club, Merion Golf Club, and Augusta National to name a few. The design takes up over 6,500 yards of spectacular fairways, marvelous views and superb golf course conditions! The result provides for a private country club experience. Rated at 72.4/132, the golf course will certainly test your skill, no matter what level of golfer you are.
A sizable number of water holes, flanked with ponds, streams, hazards and elevation changes make for a great test of your game. There is a fully-stocked pro shop, too. Following your round, a private clubhouse experience awaits you for refreshing drinks at a full-service bar and grill, or enjoy your meal in the restaurant or lounge or on the resort's beautiful outdoor deck overlooking the amazing landscape that the Pocono Mountains have to offer.
Expert on-staff professionals offer tips and instructions to help guest's golf game improve.  With more than 30 years experience, PGA Pro Chris Zelenka has the knowledge to help anyone drive straighter, hit harder, and sink putts more.  From 2006-2010 Zelenka has been recognized by the PGA President's Council on Growing the Game.
PGA PRO CHRIS ZELENKA
Zelenka got started in the golf industry in 1980 at a little course in Belvedere, Pennsylvania, as a cashier, doing a multiplicity of jobs while there.  Today, in his role as a PGA Golf Professional/Course Manager at Mount Airy Golf Club very seriously, managing over 200 rounds per day, he's busy with keeping both management and customers happy.
He admits that he has been urging property owners to include a driving range at the course, as well as an island green, knowing that both would bring additional value for golfers.
"I enjoy having new customers come and discover our course, and then watching as they return with their friends to introduce them to the experience here at Mount Airy," he says.
After-hours, his favorite way to relax from work is through songwriting and performing with his rock band.  His musical talents go long, and deep, with a history of touring internationally while opening for some big-name talent, too.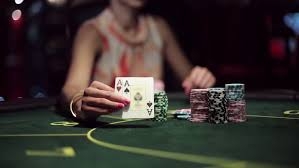 CASINO
1,800 slots and 80 table games for those who are 21 and over. A Players Club membership offers comped dinners, free slot play, exclusive offers and events with endless winning opportunities. The resort is committed to responsible gaming.
OTHER AMENITIES
24-hour fitness center
24-hour business center
24-hour front desk
Air conditioning
Free parking
FAMILY INTERESTS
Hiking
Museum/Cultural
Free cribs/infant beds
Rollaway/extra beds (surcharge)
Connecting/adjoining rooms available
Premium TV channels
Free toiletries
Daily housekeeping
WHAT'S AROUND THE AREA
Camelback Ski Area (8.2 mi / 13.1 km)
The Crossings Premium Outlets (5.6 mi / 8.9 km)
Buck Hill Golf Club (7 mi / 11.3 km)
Alpine Mountain (7.8 mi / 12.5 km)
Camelbeach Mountain Waterpark (8.2 mi / 13.3 km)
Pocono Raceway (14.4 mi / 23.2 km)
Mountain View Vineyard (11.8 mi / 19 km)
Stroud Mall (12.5 mi / 20.1 km)
Terra Greens Golf Club (13.6 mi / 21.8 km)
Pocono Mountains Visitors Bureau (14 mi / 22.6 km)
Rates from $99 per night with seasonal specials.
ADDRESS
Mount Airy Casino Resort312 Woodland Road
Mount Pocono, PA 18344
Phone: (570) 243-5240
For more information visit mountairycasino.com
#MountAiry, #MtAiry and #MountAiryResort

Recommended For You.
A vintage Tiger Woods press conference normally would consist of a lot of words but little meat for the media,