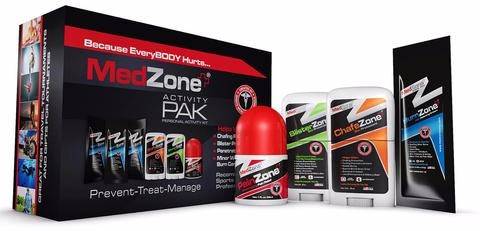 Working out and achieving the results you seek can bring on pains, chaffing, blisters and other not so pleasant things that can prevent you for enjoying physical activity.  The MedZone Activity PAK (Personnel Activity Kit) is a perfect companion for workouts of all types.   For all of your athletic needs, The PAK combination includes four travel sized products that help prevent, treat and manager on-course (and off-course) aches, pains and irritations that golfers, athletes and active people encounter.
The PAK, MSRP: $24.95, conveniently and easily travels with you in our golf bag or luggage. It's perfect to take on tournaments, to dance competitions, triathlons, marathons or to leave in your bag for any activity that you participate in.  The PAK also makes a great gift for someone you know who participates in sports or other physical activities, including triathletes, dancers, martial artists, and others.

The PAK includes these products:
ChafeZone®
Developed with input from special operations forces around the world, ChafeZone® was formulated to last all day. The unique formula will not break down easily in the presence of perspiration, chlorine, salt water or urine so it provides an effective friction barrier no matter what your activity. It easily glides on and is longlasting to prevent rubbing, chafing, and other skin irritations related to friction.
BlisterZone
This item help to prevent friction related skin irritations or blisters. Formulated to be resist perspiration and water, it offers a unique solution to help protect hands, feet and other parts of the body from painful blisters. A great addition to any new footwear purchase and it also keeps protecting feet and hands throughout daily activity or athletic workouts.  The product is ideal on heels, dress shoes, formal shoes and athletic shoes.
PainZone
The item will banish sore, overworked, and tight muscles with a no-mess, roll-on applicator. As a concentrated, no-water formula with 3 anti-inflammatory agents, plus two additional anti-inflammatory ingredient, it eliminates pain using a proprietary blend of essential fatty acids transports the active ingredients deep into the tissues for long lasting pain relief.  Great for use to eliminate aches and pains during and after golf rounds, practice hitting, or other workout activities.

BurnZone®
This natural, local anesthetic incorporates an additive of 1% Lidocaine for maximum pain relief. The proprietary blend of essential fatty acids takes the sting and burn out of blisters and minor burns, relieves insect bite itching, and calms skin irritations.

Recommended For You.
You have no doubt already heard that new golf rules will come into effect on January 1st, 2019. This will