Lakareber Abe was the lone black golfer to play in the 2017 National Collegiate Athletic Association (NCAA) Division I Women's Golf Championships.  A member of the Alabama Women's (Crimson Tide) golf team, Abe showed fortitude and a strong effort in her individual and team performance, especially after being sidelined by an elbow injury that required surgery a few weeks ago.
Growing up in Angleton (TX) Abe has a long history in the sport of golf and upon completing high school at Texas Connections Academy in Houston, she honed her skills at the Jim McLean Junior Academy in Fort Worth, Texas.  There she was coached by Justin Poynter, now a Master Instructor with the Academy. Abe went on to become the nation's No. 3 recruit for 2014 by Golfweek, ranking third among 2014 recruits by AJGA Polo Golf rankings and 13th overall.

In 2013, the Ugandan lady golfer almost became the first black female individual champion in USGA history while competing in Ohio at the World Golf Championships, Bridgestone Invitational.
At the 2017 NCAA Women's Golf Championship, the Alabama Crimson Tide closed out their 2017 season on May 22 with an under par performance on the final day of stroke-play.   The competition was held at the par-72, 6,343-yard Rich Harvest Farms in Sugar Grove, Ill.
As the sole black golfer to compete, Abe finished tied for 119th place and the team finished 14th.
This all went down when Alabama shot a one-under par 287 on Monday, the only round below par by any team in the tournament, to finish at 64-over par (328-313-287/928) and tie California for 14th place. Northwestern (301-298-298/897) finished first at 33-over par. Stanford (311-298-296/905) was second at 41-over par. Arizona State (311-309-289) finished third at 45-over par.
Ohio State (311-299-303/913) was fourth at 49-over par. Florida (320-302-292/914) and USC (315-303-296/914) tied for fifth at 50-over par.
Competitive golf within the NCAA Women's Golf Championships is challenging. Team members are also students and good grades and studying go hand-in-hand. So finding time to focus on golf competitions can be a struggle.
However, no matter the challenges, the 5'5" junior is determined to leave her mark in the collegiate realm and her family is strongly behind her efforts.  Her parents, Daudi and Fiora have been there from the start of her career.  Her father, Daudi, even used to play to a single-digit handicap.  It was during his Sunday golf rounds that his two daughters would follow and watch him play.
The sister's interest was piqued, and so finally one day, when Tezira was 11 and Lakareber 9, he took them to the First Tee of Houston. Today, Lakarebe's younger sister, Tezira, is an exceptional golfer and plays with the Texas Longhorns at the University of Texas.  Her Uncle, Dr. Luka Abe, has a passion for the game and relocated from the USA several years back and now lives in Kampala.  There's no sibling rivalry between the sisters, who, at times, have caddied for one another.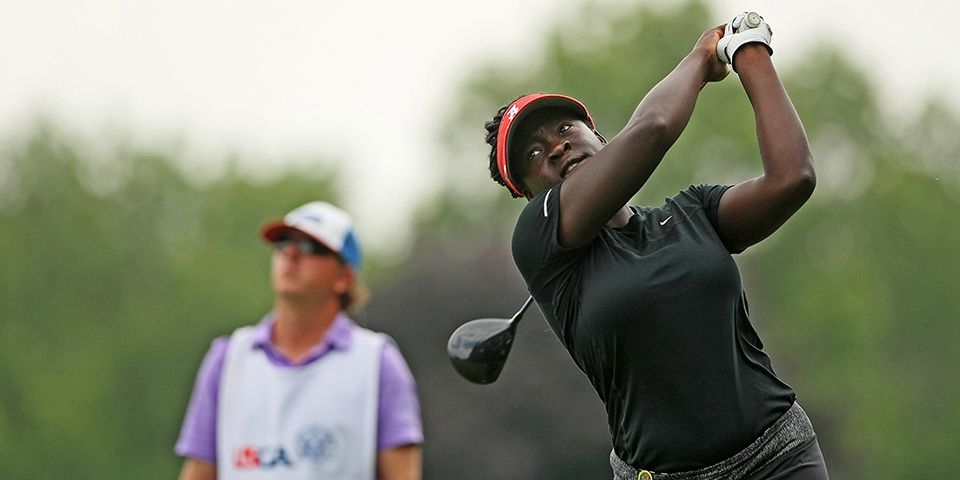 While a Freshman, she opened her collegiate career with a 3-under 69 in the first round of the Mason Rudolph Championship and was the Crimson Tide's top finisher tying for 14th with a 5-over 221. That same year she was UA's top finisher in two tournaments and had one top-five finish and five top-20 showings.
In her sophomore year, she ranked No. 25 in the country in the final Golfweek/Sagarin Performance Index. Her 73.22 stroke average ranked third on the team and she led the team with four top five finishes and top 10 finishes for the year. As a Junior, during 2016-17, Lakareber was fifth on the team in scoring average (73.86) and average vs. par (+2.27) and finished under par in six career tournaments, including her first two outings this season.
The low handicapper tied for 67th at the NCAA Athens Regional with a 15-over par 231. Her efforts help to defeat Northwestern's Sarah Cho, 2-and-1 in the semifinals at the Northwestern Quad Match on April 29. Lakareber tied for 50th at the SEC Championships with a 10-over par 226 and tied for 18th in the stroke play round at the Liz Murphey Collegiate Classic with a five-over par 77. Her skills enabled her to open the season with a fourth place finish at the Mason Rudolph Championship Sept. 16-18, carding a seven-under par 209 (71-75-63) that included a school-record 63 in the final round. Here the 9-under par round was also a school record.
Abe's Personal Bests:
Collegiate Debut:2014 Mason Rudolph Championship Low 18: 63* — 2016 Mason Rudolph Championship (third round) Low 18 vs. Par: -9* — 2016 Mason Rudolph Championship (third round) Low 54: 204 — 2015 Mason Rudolph Championship Low 54 vs. Par: -12 — 2015 Mason Rudolph Championship Victories: 1; 2015 Mason Rudolph Championship Career Top-Five Finishes: 6, last 2016 Mason Rudolph Championship Tournaments Under Par: 6, last 2016 Schooner Fall Classic. View The NCAA entire field HERE  (where you can click on each name to see scorecards from each of the 3 rounds) To see the final scores HERE. The National Collegiate Athletic Association is a member-led organization dedicated to the well-being and lifelong success of college athletes.
Recommended For You.
A vintage Tiger Woods press conference normally would consist of a lot of words but little meat for the media,