A former PGA Golf Management student at the University of Maryland Eastern Shore (UMES) KayJay McClay is the new PGA Assistant Golf Professional at The Los Angeles Country Club in Los Angeles, Calif.  KayJay, age 24, accepted the position on February 4 and will begin his duties on or about March 3.
KayJay graduated in May 2016 from UMES and his previous experience includes serving as an Assistant Golf Professional at The Broadmoor, a five star luxury resort in Colorado Springs, Colorado.  After the position finished, in August 2015, KayJay headed back to UMES to finish up his last two semesters of school.

With one online class left in the spring, Kayjay proactively searched for the final internship that would work to set him apart from the rest.  "In November 2015, I failed to secure an internship that I was really excited about possibly getting, it was between me and another fellow.  When this happened, I knew that I had to go into overdrive and find something else, as most high-end facilities hire around the end of November.  So, I just applied to about five other clubs, and by the end of the interview process I was fortunate to have landed three offers!"
By January, 2016, Kayjay had three terrific offers:  Cattail Creek Country Club, Glenwood, MD; Columbia Country Club, Chevy Chase, MD; and the Pronghorn Resort, Bend, OR.
"Author and motivational speaker Les Brown says, 'When life knocks you down try and fall of your back, because if you can look up, you can get up!'  To me it can't be about what happens to me, but what happens in me that will continue to make all of the difference."
As a member of Cattail Creek Country Club's Professional Staff  KayJay was afforded access to search and use the golfbusinessnetwork.com  as a tool to access the website content that provides for professional development, educational events, webinars, and networking. There are various levels of membership, ranging from $350-$945.00.  It also gives members access to its immense job board which posts jobs available at the top 100 golf facilities in the country.   This ultimately lead him to apply for the job at Los Angeles Country Club; a top 100 facility in the world.
On Jan 3, he received an email confirming they had received his application.  "I was truly excited about joining the Los Angeles Country Club's Professional Staff. As graduates from PGA Golf Management schools, we understand the industry and so we work hard to network and get in with the best in the business. By January 18, I completed a FaceTime interview, and the following week I personally met with them down at the PGA Show in Orlando, Florida, where I had the honor of doing a second interview with the Head Pro, Tim King, and the Director of Golf, Tom Gardner."  He accepted the position on February 4.
KayJay is a West Coast native who grew up in San Diego, California, where the cost of living is a little lower than Los Angeles.  "Once the season starts in March, I expect to learn as much as I can before our club hosts the 2017  Walker Cup this summer. I know that this experience is only the beginning of what will prove to be a promising career."
In his new role, KayJay's main responsibilities are nothing short of what it takes to help manage 60,000 rounds of golf and help to provide world class service for 1500 club members. He will also be working to further enhance the Club's junior program and will have a wonderful opportunity for being among some of the best in the golf business while working his way up the ladder within the industry. Founded in 1897 as the Los Angeles Golf Club, the club remains an exclusive where the Hollywood elite play. With his strong marketing experience and keen knowledge for developing programs, KayJay is destined to become a valuable asset to the Club.

KayJay is now in the process of relocating from Ellicott City, Maryland to Los Angeles.  He hopes to be settled in around late February.
"I think that it's all about having a winning mindset," states KayJay.  "You have to expect to be successful and I know that what we 'want' shows up in day to day conversation but 'expectation' shows up in behavior!  I had to learn how to operate with the understanding that we live in a society of accelerated change, overwhelming complexity, and tremendous competition. So it is imperative that I continue to climb to the top, because it's the bottom that is over-crowded, while understanding that I have to remain humble and know that these opportunities are once in a lifetime."
Raised by his grandparents, Grandmother Harriet, 79, and Grandfather Gordon, 81, KayJay is glad they are both still around to witness his success in the golf industry.  Gordon Brown started the organization formerly known as the Southeast San Diego Junior Golf Program, 55-years ago. To this day, the family still runs and operates what is now known as The San Diego Junior Golf Academy and Foundation.
It was KayJay's grandfather who introduced his children and grandchildren to golf and taught them all to play.  "My grandfather would always say, 'Son, golf can open doors for you. Even if you don't like it, you need to learn how to play.'  As a young person, the wisdom at times escapes our grasp, but I can remember the story clear. Having started out as a Floor Janitor, my grandfather earned a position as the first black supervisor at an airplane engine company, Solar Turbines, back in the 1960's."  While at the company, in 1967, 1968 and 1969, Gordon won first place in the San Diego Industrial Championship.  This was the same golf tournament that the legendary golfer Sam Sneed had previously won.  "I think growing up, I didn't really understand what he meant all the time about golf being used as tool, I must say that I GET IT now."
Reiterating on the strong principles that he takes to heart, KayJay admits, "The reason why I do what I do, is for every young person to know that it's possible. If you work hard, network, and carry yourself respectfully, the doors are wide open. At the end of the day, it is about who you are as a person and what value you can bring to a company. If you can increase the bottom line, then you will be valued by their operation.  So, you want to be able to fill a space that nobody else can fill."

Recommended For You.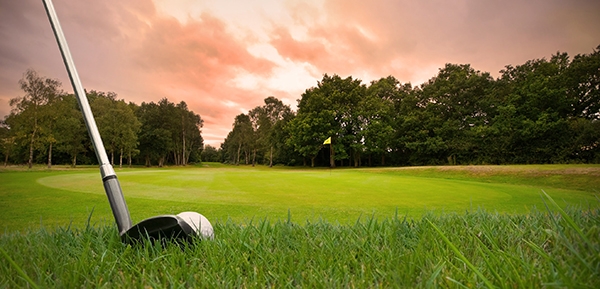 // USGA and The R&A Release Key Features  LIBERTY CORNER, N.J.  -  The USGA and The R&A announce key features