In the Sand Golf provides a swath of unique gift items.  The designs derive from custom golf aerael photos of golf holes from across the country.  The photos are then used to 'spell out' words on such items as trophies, frosted glass coffee mugs, t-shirts, drink coasters, tote bags, and more.
Our personal favorite is the Poker Chip Ball Marker—it's cute and flirty! And a smart way to get noticed on the course.  Another item we like is the personalized latte coffee mug.  It's brilliant white, holds 11 ounces, and you can put your, or you favorite golfer's name on it!  A large handle makes it easy to hold.  Additionally, it is dishwasher and microwave safe.
How did it all get started?  Well, creator Mary Whitworth, a pilot, who loves playing golf as much as she does flying, came up with this concept. After taking over 500,000 aerial photos for almost 28 years and logging over 10,000  hours in helicopters and airplanes, she took her love for flying and golf one step higher (pardon the pun).
It was all happened rather serendipitously, while she was flying over golf courses in Florida.  she noticed some of the golf course sand traps were shaped liked letters of the alphabet. For one year, on every flight, she has captured the entire alphabet with photos of golf sand traps. Some of the traps have rakes, golf carts and golfers in and around them. Voilà! Her new business was launched.
Recommended For You.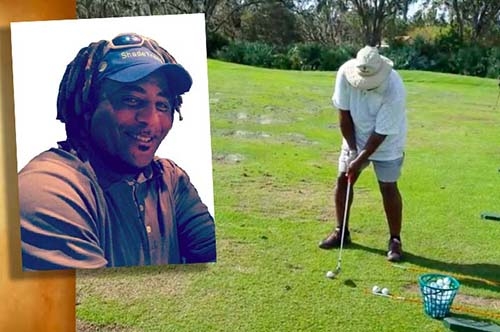 Charles  Calhoun, a.k.a. "The ShadeTree Pro", provides golf instruction to Mr. Charles Williams, working with him on getting into the
Share Your Comments