In light of the protests surrounding the national anthem, sparked by Colin Kaepernick's demonstration a year ago, there has been a swath of backlash and countless reactions on the forefront of almost all sports. Over the weekend, and since,  NBA players, including LeBron James and Rockets point guard Chris Paul—who is also president of the NBA Players Association—took to Twitter to have their say.  Today, American golfer Peter Malnati responded to the matter, becoming one of the first professional golfers to speak out on the debate, saying "Though athletic rivalries divide us playfully, sport unite us," Malnati wrote on Twitter. "It has an amazing power to transcend differences that everyday life cannot." Malnati has played on both the PGA Tour and Web.com Tour.
30-year-old Malnati urged his Twitter followers that Trump's words will lead to divisive responses, saying they should "look within, asking themselves what the flag represents to them." "Those who kneel during the national anthem aren't disrespecting the heroes who sacrificed to defend the United States," Malnati said.  "Those who kneel are pointing out that as a nation, we are not doing a good job of upholding the values for which people sacrificed."
Malnati also put a spotlight on the Trump White House, saying "The current administration in Washington has made it very clear they don't want the United States to be a nation that cares for those on the margins of society. Or a nation that celebrates freedom and equality."
Malnati, who's fully exempt on tour for next season, also added a very personal comment:  "I stand for freedom. I stand for 'justice for all.' I stand for equality, for empathy, and for compassion. I kneel to hubris and greed. Therefore, I take a knee for the flag that represents this administration. Not because I don't love this country, but because I do."
Edward S. Wanambwa, Senior Editor, African American Golfer's Digest, as a veteran myself who fought to defend this country and to defend the right of ALL people to exercise their freedom of speech, says he finds nothing wrong with kneeling for the national anthem.  "In no way does it disrespect or disregard the sacrifices that so many brave men and women have made for this country by giving their lives to defend the freedoms it stands for. In fact, the fact that athletes can take a knee is exactly what they fought for. I did not fight for freedom so only the people I agree with could protest and exercise their right to freedom of speech and non-violent protest. I don't get the luxury to pick and choose who can or cannot protest and how they should do it."
"Donald Trump crossed the line again by uttering such hateful and divisive words in regards to kneeling for the National Anthem. He chose to garner some cheap applause rather than recognize that citizens in this country are afforded the right to protest. His words speak volumes as to what he truly believes in and what his administration stands for."
"Non-violent protests, as always, have been a positive vehicle to affect change. From the sit-ins at lunch counters during the civil rights movement to the raised fists at the 1968 Olympics, protests have brought to light the challenges and struggles that disenfranchised people have faced in this country. This protest is no different. However, the reaction is extremely discouraging and sad. To focus on the protest and not the reason for the protest only goes to show how in the dark America is about racial equality in this country."

"This protest raises a very uncomfortable topic for the American people and rather than address the racial elephant in the room, many choose to focus on the flag and not the true reason for the protest. Until this country comes to terms with its hurtful violent past then these types of issues will continue to happen. By taking a knee we all take a stand against hate and discrimination in the land of the free and the home of the brave."
Jeffrey T. Sammons, Ph.D. a Professor of History at New York University and former member of the United States Golf Association's Museum and Library Committee, shared his thoughts on this subject with AAGD.  Sammons, well-respected for his views in the African American golfing community resigned from his volunteer role with the USGA.  He is also a founding member of the African American Golf Archive.  "Peter Malnati deserves much credit for speaking out for justice and liberty when his fellow players and game leaders remain deafeningly silent on such issues.  The leading golf bodies continue to business with a man who has disrespected the office of the presidency with his inflammatory, divisive, and profane rant against those who are exercising their right to free speech ingrained and enshrined in the Constitution and protected by those who have fought and died in its service."
RELATED STORY: Prominent Black Members of Golf Community Join Crusade with Martha Burk to Move U.S. Women's Open From Trump Course
Sammons continued, "That is to say nothing about his divisive and destructive comments and actions toward Mexicans and Mexican Americans, his leading role in the Birther Movement, or his blatant misogyny.   Even more remarkable is how they have tolerated and rewarded his affronts to the game of golf.  His refusal to give up ownership of his golf properties and use of them as President could mean that the leading golf bodies might be contributing to potential conflicts of interest.  If that were not enough for them to disavow and disengage from Trump, they have said nothing about the Retweet of a GIF in which he strikes Hillary Clinton in the back with a golf ball."
"At a minimum that is unbecoming of a President of the United States and antithetical to the values that golf purports to represent and protect.  Yet, The United States Golf Association, in conjunction with the Ladies Professional Golfers Association, held the United States Women's Open at Trump's Bedminster course in July.  The Professional Golfers Association of America held a PGA Senior Championship at his Sterling, VA course and is contracted to hold the 2022 PGA Championship at his Bedminster course.  With the change in the PGA Championship schedule, there could be a shift to Doral and/or a Ryder Cup.  Imagine a Ryder Cup at a course in which its owner calls those protesting in a peaceful and respectable manner SOBs who should be fired or suspended.  What does that say about golf and us?"
"I hope Malnati is not alone and that higher profile players will stand up for right and against wrong.  I fear that golf's leadership will continue to hide behind claims of their apolitical commitments and say or do nothing.  They must realize that this issue is not simply political it is moral.  If Rex Ryan and Jesse Ventura can speak out against the President's disgraceful race baiting then silence on the part of golf's leadership reveals them to be morally bankrupt."
Michael Cooper, Chairman of the GOLF 20/20 Diversity Task Force, a Golf 20/20 Diversity Initiative responded by saying, "First, kudos to Peter Malnati for publicly speaking up on the matter.  He is a brave man!  Kudos, too, to Golf Channel for broadcasting his interview.  It was brave on their part, as well.  The right to peaceful assembly is a constitutional right, and on Sunday we saw an entire league of owners and players exercise their rights in a peaceful manner.  They displayed solidarity towards a common cause much larger than sports."
"In my opinion, golf leaders could be bolder and play a part, too, in helping to unify our country by bringing diverse people together to discuss the uncomfortable, yet important topic of race in America.  We can't continue to act as if problems with race relations don't exist.  They do!  We'll see if the public comments by Malnati bring more reactions from the golf world.  They're generally a quiet and somewhat passive group of leaders who don't like tension.  Nobody does.  But I'll conclude with a quote from Dr. King in his Letter From A Birmingham Jail.  'We who engage in nonviolent direct action are not the creators of tension.  We merely bring to the surface the hidden tension that is already alive."
"I applaud Peter Malnati for having the courage to speak out and take a stand on kneeling for the national anthem. By taking a stand on this hot-button issue he is displaying a level of courage and conviction that is often lacking with present-day professional athletes who are often more loyal to their sponsors and financial interests than relevant social issues."
"Colin Kaepernick took a stand against police brutality by kneeling for the national anthem before NFL games. He chose to take a public stand at the height of his popularity risking everything he had worked so hard for to speak out on an issue he found important. Kaepernick risked everything for something he deeply believed in and sadly the reason he kneeled has been lost in this controversy. Now it all seems to be about disrespecting the American flag and that is not why he took a knee in the first place."
Recommended For You.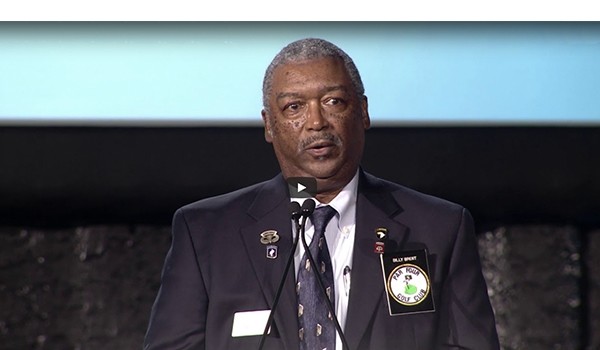 William "Billy" Brent took to the center stage in grand form and with nimble humility when honored by The First