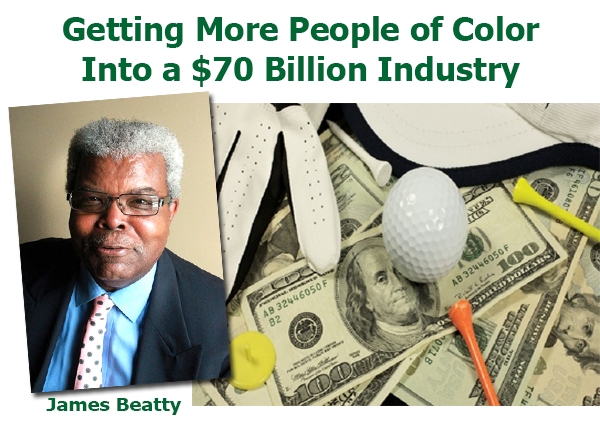 I know, I am privileged and even lucky to be able to attend various PGA, USGA, LPGA and Masters events but please know that while attending these events that I am viewing them from a unique vantage point.
That vantage point is this:
HOW CAN MY PRESENCE HERE LEAD TO MORE PEOPLE OF COLOR PARTICIPATING IN THIS $70 BILLION INDUSTRY?
Of course, I enjoy the trappings of the buffet breakfasts, delicious lunches and lavish sit-down dinners that are an integral part of the meet-and-greets courtesy of the sponsor (or sponsors).  I realize that these functions are a part of the deal, as I try to fulfill my participation obligations in a professional manner at all times.  However, while at these tournaments, programs, conferences, and other events, I remain keenly aware and pay strong attention to see WHO is in the Corporate Village 'front and back of house' preparing the food and beverages, taking orders, giving orders, and whatnot.  I take notice of who is in the "members" clubhouse, who is handling the various duties there, as well. I want to know this so that I can intelligently discuss these and other matters with the appropriate golf business officials when the time and situation present the opportunity.
So, with that said, here is what I observed last week at the PGA Championship.
We (us black folks) were in the clubhouse as cooks and security guards—which is better than not being there at all.  However, there were not enough of us in there as actual guests of the PGA Championship–the only Championship for professionals, by professionals, where more than 200,000 people lined the fairways during the week generating a 100 Million Dollar impact on the local economy.
While in the Corporate Village, I met many other people of color such as Rhonda Anderson, Executive VP/COO of the YMCA of Greater Charlotte and Bridget–Anne Hampden, President of the JHR and Associates, a global management consulting firm. I had the pleasure of meeting Mauricus "Moe' Brown who is the Manager of Economic Development and Negotiated Incentives for Dixon, Hughes and Goodman.
All I am saying is that the sport of golf is good for business at all levels, and we all need to be included at all levels if the game is going to grow as golf leadership would like.
VOLUNTEERING TO MAKE AN IMPACT
I want to also point out that we should also seek to volunteer when the opportunity arises, as many times it did in Charlotte. I was so pleased to meet a few of the volunteers of color like Deloris and Everett Taylor. This husband and wife team volunteered in handling the crossing duties on Hole 10 the 592 yard, par 5 when I met them, and we talked just like we had known each other for years.
I was equally pleased and proud that they were readers of the African American Golfer's Digest and they even mentioned how much they enjoy receiving emails regularly from Debert Cook, the AAGD founder.  This dynamic duo also serves as Certified Golf Teaching Professionals and are part of the United States Golf Teachers Federation.
The Taylor couple is also extremely glad of their efforts in helping to raise funds for PGA professional golfer Harold Varner III during his early years when he was coming up in the game….What a class act these two retired U.S. Postal Service workers are for all of us to admire.
Well, I hope that through this summary I have shared some thoughts to enlighten and perhaps maybe even provoked a few.   Just drop me a line at my email anytime to share your thoughts. See you next time, maybe in the AAGD Corporate Chalet!
Recommended For You.
Celebrating, remembering and honoring golf greats among African American golfers is what we aim to do all year long.  However, during