Founder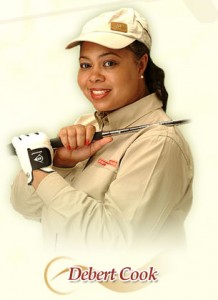 Debert Cook, CMP
Publisher, African American Golfer's Digest
President/CEO, Event Planners Plus! NA Inc.
Headquarters: New York City
Ms. Cook is a media expert and launched the African American Golfer's Digest as a nationally distributed print publication in March 2003 focusing on news, information, and activities in the 'soulful' world of golf. Headquartered in Manhattan in New York City's Financial District, the magazine has been PGA of America Diverse Supplier since January 2009.
Ms. Cook is the first black woman to wholly own a Black-focused golf magazine in the U.S.A. and, prides herself in providing balanced editorial that showcases in print and digital formats the individual and collective efforts of Black Americans playing and enjoying both leisure and competitive golf; the sport of a lifetime.
On Sunday, June 4, 2017, Ms. Cook will be honored by the Wake-Robin Golf Club at its 80th "Diamond & Pearl" Jubilee Banquet.  The Wake-Robin is the oldest women's golf club in America, not just the oldest African American golf club, and it will celebrate its 80th Anniversary with a grand Diamond and Pearl Jubilee.  Honorary Chairwoman for the distinctive program is Congresswoman Eleanor Holmes Norton.  To celebrate, the organization will be hosting a two-day event that is open to the public.
The magazine is subscription-based and serves a controlled circulation of over 80,000 readers each quarter, with added distribution to over 250 African American-focused golf events around the country.  National Media Partnerships help golfing groups, along with nonprofit and for-profit organizations, with a variety of affordable advertising and marketing campaign strategies to promote their tournaments and outings to this niche golf targeted marketplace.
As the nation's leading publication for avid Black American golfers, the magazine has been featured on The Golf Channel, ESPN, BBC, BBC London, The New York Times, The Wall Street Journal, Golf For Women, Meetings & Conventions Magazine, Black Enterprise, Ebony Magazine, Jet magazine, ESSENCE magazine, The Network Journal, Crain's New York business, GolfWeek, The New York Amsterdam News, Sports Business, The Chicago Observer, The Detroit Free Press, Rolling Out and many others.
The publication has been featured on the big screen and received billing in the documentary "Rainbow On The Green" which included golfers Charlie Sifford, Lee Elder, Lee Trevino, Renee Powell and Nancy Lopez.   The 45-minute documentary highlighted the contributions of women and people of color to the sport of golf over the last 112 years, and air in three of the USA's largest television markets, New York, Atlanta and Los Angeles, in March 2008.  The publication was also included in the opening scene of "Baggage Claim", An American Comedy Film Directed By Award-Winning Writer, Director, Producer, Author, David E. Talbert.
As President/CEO of Event Planners Plus NA Inc., a corporate and small business meeting management and solutions firm which she founded in 1998, Ms. Cook oversees daily operations at the company which specializes in programs with 12-2,500 attendees including public and private seminars, workshops, conferences, training programs, incentives travel, festivals, cruise meetings, awards galas, fundraisers and more.  Additional services include logistics planning, entertainment and venue sourcing, group activities/tours, transportation, food and beverage, décor design, team building, gift sourcing, VIP experiences and the facilitation of city insider tours.
Ms. Cook is a Certified Meetings Professional and holds the distinguished CMP certification, a designation by the Convention Industry Council (CIC).  Her firms clients have included Philip Morris USA, General Services Administration (GSA), The National African American Insurance Assoc., Empire State Medical Association (EMSA), Medgar Evers College (HBCU), State of the Black World Conference, Black Expo New York, Thurgood Marshall Scholarship Foundation, Black Barbershop Health Outreach Program (BBHOP), Office of the New York State Comptroller, the Kente Cloth Festival, The Network Journal, the MONY Group, New York's African Burial Ground, Celebration of Heroes, Cutt Team LLC and WBLS radio to name a few.
Ms. Cook is a native of West Virginia and grew up in Ohio prior to relocating to New York in 1988. She holds a A.S. Degree in Music Business from Georgia State University, a Certification in Radio/TV Production, a Bachelor of Arts in Communication from Youngstown State University, a Master of Arts degree in Liberal Studies/History from the City University of New York (CUNY) and, has served as an adjunct professor teaching courses in African American music & African American art history at the South Bronx (NY) campus of The College of New Rochelle.
Prior to opening her own firm, Ms. Cook served in positions with numerous companies including BusinessWeek Magazine, Esquire magazine, ChemicalWeek magazine, Avrette, Free & Ginsberg advertising agency.
She holds professional memberships with numerous organizations including the United States Golf Association (USGA), National Minority Business Council, NY/NJ Minority Purchasing Council,  Black Americans in Publishing, Golf Writers Association of America, Metropolitan Golf Writers Association, National Urban League, National Association for the Advancement of Colored People (NAACP), International Network of Golf,  National Coalition of Black Meeting Planners, the Black Jewels Ladies Golf Association-Brooklyn, NY Chapter (BJLGA) and Sisters Across America.
Ms. Cook is a frequently invited speaker at programs and her achievements have been documented in these books, "The African American Woman Golfer, Her Legacy" and "Heroines of African American Golf," both authored by M. Mikell Johnson, Ph.D.
A resident of Staten Island (NY) she enjoys golf, tennis, bicycling and adventure travel.  She has visited six continents, over 45 countries and eight African countries.  Through the help of AfricanAncestry.com and DNA research she has traced her paternal family lineage back to the Ewondo people of Cameroon and the Tsogo people of Gabon.  Her maternal lineage is of European ancestry and among the Haplogroup K, a non-African lineage believed to have originated around 12,000 years ago in Western Asia.
Ms. Cook is an avid traveler and has adventured to 52 countries and 6 continents.  Her aspirations are to trek into Antarctica this year.
Ms. Cook has received numerous awards and honors for her professional work including being named "Business Leader of the Year" by the African American Chamber of Commerce of Westchester and Rockland Counties, recipient of the President's Award by the New York Professional's Club, North American Excellence Award, Outstanding Leadership Away by the Darby Foundation, the Pioneer Award from the Inner City Youth Golfer's Association of West Palm Beach, Florida, and others.  A recognition by Verizon during National Small Business Month (2009) came as a surprise. In June 2017, she received honor from the Wake-Robin Golf Club, the oldest women's golf club in America.
To learn more about the African American Golfer's Digest and its many programs, events and partnership opportunities, or to subscribe visit the website: AfricanAmericanGolfersDigest.com or call (212) 571-6559.