Driving Force Women's Golf Club (DFWGC) was officially founded in 2007 and is now celebrating its 10th Anniversary.  To mark a decade of success several planned pre-celebration activities will be held that include the Sixth Annual Margie L. Lee Mars and Venus Golf Tournament (November) and the 10th Anniversary Annual Banquet (November).
To kick-off festivities of the signature year, the Montgomery County Commission and the Governor of the State of Alabama have proclaimed Saturday, July 15th as Driving Force Women's Golf Day.  On that same day a "TEE IT UP FORE KIDS" Golf Clinic will be held at Gateway Golf Course, 3800 Davenport Dr, Montgomery, AL.
For the past 10 years, the Club has been instrumental in introducing golf to African American women in central Alabama and providing a structured format in which to learn to play the game and compete with other women's golf organizations throughout the South.  Recognized as a progressive league in their community, the Club has grown to 65 members and has attracted a diverse membership to include Korean and Caucasian women who have learned the value, business importance and fellowship of the game.
The mission of DFWGC:  "To enhance our knowledge about the game of golf, improve golf skills, enjoy camaraderie with other DFWGC members, enter into competition with other clubs or groups and expose and mentor youth golfers to all aspects to the game of golf."
The idea of creating a Driving Force Women's Golf Club began in the spring of 2006 when Sandy Osborne convinced Alabama State University's First Lady, Margie L. Lee, to take golf lessons with her. That challenge resulted in Margie's vision for the first African American women's golf league in Montgomery, Alabama, after which, four ladies went on a retreat to St. Augustine to discuss the possibilities of Margie's vision: Margie L. Lee, Sandy Osborne, Hattie Robinson and Dr. Essie McGhee.
HOW IT ALL BEGAN

In November 2006, Margie invited women from the local community to her home to talk about golfing. Thirty-four women accepted the invitation, many of whom would formally join the league at the inaugural organizational meeting on Saturday, January 27, 2007 at Arrowhead Country Club in Montgomery.
Forty-two women attended the charter meeting, created an executive board and elected Margie L. Lee as President; Vice – President, Dr. Essie McGhee; Secretary, Hattie Robinson; Treasurer, Sandy Osborne; and Historian, Linda Mathews. The charter members officially voted on a name, Driving Force Golf Club. A second meeting was held at Gateway Golf Course on Saturday, April 28, 2007.   Forty-six women attended the meeting. They elected a parliamentarian, Pat Elliott, to serve on the executive board. Members also amended the organization's name to Driving Force Women's Golf Club. Sandy Osborne wrote the by-laws.  Since their founding in 2007, the golf club has had many notable accomplishments:
• Becoming the first and largest organized women golf club in Montgomery and the State of Alabama with a diverse membership of approximately 60 members.
• Becoming a member of the Alabama Golf Association
• Becoming the first women's golf club to sponsor Hole Number 2 and volunteer at Robert Trent Jones during the LPGA Navistar and Yokohama Golf Tournament since 2008.
• Becoming a competitive women's league in Montgomery, competing in an annual Alabama/ Georgia Shoot Out with Brown's Mills Women's Golf Club, since 2008. To date, DFWGC has retained the coveted Shoot-Out Cup for the second consecutive year 2015 and 2016. The Montgomery City Council recognized the club at its regular meeting in 2015 for this accomplishment.
• Becoming an organization that includes associate members from Huntsville and Mobile.
• Becoming an organized league that includes a 9-hole league for beginning golfers and those who prefer to just play 9 holes; also professional golf instructors available for lessons and golf clinics. Additionally, providing an 18-hole league at Lagoon and Aroostook Golf Course for golfers with an official GHIN handicap.
• Organized and hosted our first Mars and Venus two-person golf tournament in 2012 and which was re-named the Margie L. Lee Mars and Venus Golf Tournament in 2014.
COMMUNITY OUTREACH
• Supports the Alabama State University golf program through a continuous minimal annually budgeted donation of $400. Whereas, in 2017, this annual donation reached a total of $1500.
• Volunteered and supported various local golf tournaments such as: ASU President's Tournament, The Dr. Willie Strain Sickle Cell Tournament, James A. Shannon Golf Classic, Cleveland Avenue YMCA Golf Tournament, John K. Knight Charity Golf Tournament, Calhoun Celebrity Golf Tournament, Tuskegee Homecoming Golf Tournament, Omega Psi Phi Fraternity, Inc. Golf Tournaments and other charity tournaments.
• Supports local community events, to include but not limited to: the Cleveland Avenue YMCA "Back-To-School Drive" for school supplies; Coat and Baby Clothes Drive for the Alabama Department of Human Resources and the Community Pantry "Can Food Drive."
• Volunteered for the First Tee for young golfers in Montgomery and supports Leo Golf for Youth.
DFWGC IS ALSO PROUD TO SALUTE TWO OF ITS FOUNDERS:
• Hattie Robinson was the first woman of color to be elected president for the Montgomery Women Golf Association in 2010.
• In 2016, Dr. Essie McGhee, became the second woman of color to be elected president of the Montgomery Women Golf Association. Dr. McGhee was also the first woman of color to win that championship in 2016.
Driving Force Women's Golf Club, since 2007, has had six presidents: Margie L. Lee, Dr. Essie McGhee, Sandy Osborne, Valerie Smedley, Kim Davis and Olivia Anderson-Gibson. As they celebrate their 10th Anniversary, remembered will be two dedicated members who have passed away, Barbara Howard (2015) and founding member Sandy Osborne (2016).  Both were an inspiration to all league members.
The club is committed to supporting collegiate golf programs, men's/women's golf teams, and they mentor golfers at Alabama State University. Additional efforts go towards supporting and volunteering with the LPGA tournament in Prattville, Alabama where they've made many friends with some of the world's best female players.  Annual dues ($80)  include (but is not limited to) reduced fees for golf lessons, a class in golf etiquette, and various league activities throughout the season. Their goal: To continue supporting and promoting golf and those aspiring to play on a professional level.
In recognition of the club's 10 anniversary, founding members are sharing their memories online at their website of how the league began.
Yes, they certainly are a 'DRIVING FORCE' among women's golf clubs.
Contact:
Driving Force Women's Golf Club
P.O. Box 1117 | Montgomery, Alabama 36111
Email: drivingforcewomensgolf@yahoo.com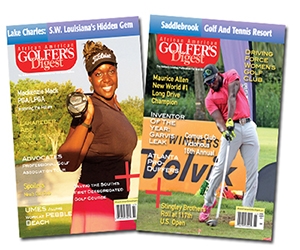 BUY THE HARD COPY OF THE MAGAZINE WITH THIS ARTICLE HERE!
Recommended For You.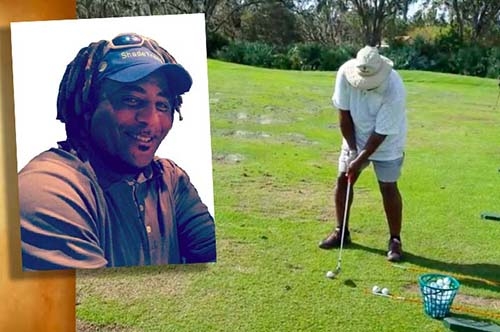 Charles  Calhoun, a.k.a. "The ShadeTree Pro", provides golf instruction to Mr. Charles Williams, working with him on getting into the
Share Your Comments