The Golf 2020 Diversity Task Force recently held a strategic planning session, establishing objectives and strategies from 2018-2020. One of the primary functions of the group is to serve as a linking agent, connecting opportunities within the golf industry to minority-led, community-based program leaders. To accomplish this, five sub-committees have been created. They are as follows:
Communications & messaging
Recreational play
Competitive play
Workforce diversity
Supplier diversity (minority vendors)
FOCUSING ON A $70 BILLION INDUSTRY
A major focus will be on workforce and supplier diversity. Current data reports golf is a $70 billion industry, employing over two million individuals. Minorities are grossly underrepresented in golf's workforce, however, and the same is true for minority-owned businesses. True inclusion means we'd be part of the economy, not just contributors to the economy.
We also recognize the importance of taking full advantage of the historically black college and university (HBCU) network. In June 2017, the African American Golfers Digest reported that Jackson State University was canceling their golf team programs. The announcement set off an alarm in our golfing network and triggered a call to action.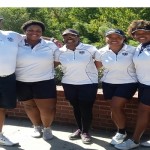 RELATED ARTICLE: Jackson State Suspends Men's and Women's Golf Teams For Two Years
Craig Kirby, a fellow Task Force member, reached out to a past relationship with the president of the National Association for Equal Opportunities in Higher Education (NAFEO) and explained the situation. NAFEO is the umbrella organization over all HBCUs and predominately black institutions. Their network includes over 200 schools and more than 700,000 students, most of them minorities.
NAFEO CONNECTS WITH GOLF INDUSTRY LEADERS
An ad hoc committee quickly assembled and connected NAFEO with golf industry leaders. Now the lines of communications are open and many HBCU presidents want to expose their students to the business of golf. In addition, to attract more minority candidates the committee will share internship and employment opportunities with campus representatives.
Also of note is that HBCU golf team coaches have formed an association to address matters pertaining to team golf. Craig Bowen has been appointed president, and Leonard Smoot vice president. Craig is a fellow Chicagoan and longtime friend. He is the current golf coach at Chicago State University. Coach Smoot leads Miles College, in Birmingham. We are in constant communications, and this emerging partnership is another example of how we will work together to quickly advance the D&I movement.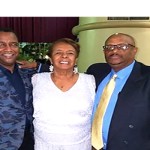 RELATED ARTICLE: Craig Bowen Among New Members of Southern University Sports Hall of Fame
Finally, the Golf 2020 Diversity Task Force is partnering with the African American Golfers Digest to host a roundtable discussion on Wednesday, January 24, 2018, from 4pm-6pm, on day one of the PGA Merchandise Show in Orlando, FL. Minority-led community-based program leaders are invited. Please let me know if you will be attending the PGA Show and would like to join our discussions. I can be reached at mcooper2@springfieldcollege.edu
ABOUT MICHAEL COOPER, PH.D.
Dr. Michael W. Cooper is the former Director of Diversity for the World Golf Foundation/The First Tee and past Assistant Dean/Campus Director for Springfield College-Tampa Bay campus. Contact him at mcooper2@springfieldcollege.edu.
Recommended For You.
In an effort drive to  the R&A announces that it will introduce a new amateur championship for junior girl golfers
Share Your Comments