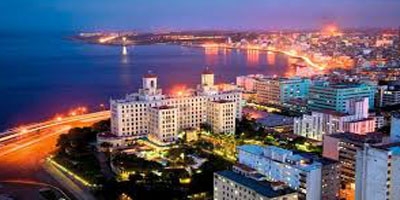 Cuban Culture, Cigars and Rum Tour
December 1 – 7, 2017
Travel to the exciting and once forbidden island nation of Cuba. Experience the world famous cigars, great rum the rhythms of Afro Cuban jazz and Salsa.
The trip will be licensed under the People-to-People category. A $500 nonrefundable deposit is required along with a reservation form. Passports cannot expire within 6 months of the return date.
Friday
Arrival: Terminal  2 or 3, Jose Marti Airport, Tour Guide and Driver to meet group at Jose Marti Airport – With SIGN?  Change money at the airport.
NOTE:  Buy water at the airport upon arrival. This day depends on the time of arrival.
On drive to Casa Particular
Check-in at Casa Particular in the area of Vedado or Old Havana
5: 00 Cocktail at the National Hotel at Fame Hall, for a National Cuban Cocktail (Mojito, Pina Colada, Daiquiri, Cuba Libre, etc)
8: 00 Transfer to Tropicana Night Club.  Don't miss part of the second show.   Dinner at the Night Club.
Transfer back to the hotel or casa particular.
Saturday   
8:00 AM – Breakfast at the house
9:00 –Guide and Driver will pick you up.  City Tour of Old and Modern Havana (visit to a Fabrica Bocoy for a flamed Cuban Cappuccino in the Area of El Cerro)
13 00 Lunch at La Carriola – private restaurant at Callejon del Hamel
The Hamel Alley- Afro-Cuban Mural Art Project
Driving tour of Vedado area (Cemetery, Havana University, Napoleonic Museum, Revolution square. and a visit to the Hotel National
8:30   Encounter with the Music of the 1950's Buena Vista Social Club (dinner is included).
Transfer back to Casa Particular.
3rd Day- December 3
Monday
8: 00 Breakfast (at Casa particular)
9:00 – Pick up and Visit the cigar factory, then Visit the Museum of the Cuban-African Roots-    Cuban Yoruba Association and other Cultural Institutions related to the African Roots in Cuba.
Lunch at a private restaurant- Cimarron?  Calle 19 No. 1101 esq. a 14.Vedado | Plaza de la Revolución, Havana, Cuba  53 – (537) 831-9968
Transfer to San Jose Craft Market in Old Havana
Free Afternoon- Free Night
Optionals– Jazz Club,  El Sarao,  El Tablao) We can also organize a meeting with the jazz musician Lazaro Valdes at hotel Victoria
8:00 a.m.  Breakfast
Transfer to Las Terrazas or Vinales for a whole day. Lunch included
Return to Casa Particular
Dinner at a nice private restaurant
From Tuesday to Thursday
Breakfast at casa Particular. Transfer to Varadero
–  Two nights at a hotel in Varadero, Matanzas. Stop at "Puente de Bacunayagua" Bridge and continue to the City of Matanzas

-Visit of the Museum- the Route of the Slaves- at San Severino Castle, and tour of other interesting cultural places of Matanzas.  Tour and Lunch in Matanzas.  Transfer to Varadero.
4:00 Check in at the Hotel in Varadero
Free Time (2 nights) Beach and Golf….
Day 7 – December 7th
Breakfast and Return to Havana straight to the airport, they must leave Varadero 5 hours before the flight departure from Cuba.
Package Price per person:
$ 2,000.00 casa particular + Gran Memories Varadero
$2,300.00 Hotel Melia Cohiba in  Havana + Hotel  Grand Memories In Varadero
Single Supplement $600.00
TERMS: Price is for land only.
Airfare is not included.
Visas can be purchased through the airline or procured through Pathfinders.
Cuban medical insurance is included in the price of your airline ticket.
Flights are available from Philadelphia with connections through Ft. Lauderdale or Miami.
$500 nonrefundable deposit due immediately. 2nd payment of $500 due by May 30th.
–  Additional monthly payments of $180 DUE JUNE – OCTOBER 31, 2017.
Payments can be made via check to Pathfinders Travel Group or via PAYPAL.
Please contact wthomas@pathfinderstravel.com for instructions.
Credit card payments are accepted with an additional 3.75% surcharge.

The package includes
-4 meals, transportation,  accommodation with breakfast daily included.
-Tropicana Night Club with dinner included, Buena Vista Social Club Show + Dinner, visits to museums and cultural institutions.
-Tour to Vinales and Matanzas
-Transfers in and out.
The only thing that it is not including is the golf rates: approx. $300 for 18-hole round + shared cart.  Club rental approx. $50.
Tips for guides and driver are suggested at $3 per day pp for each.
TO BOOK THIS TOUR or for more information contact:  Debert Cook, 212-571-6559 or E-mail 
Recommended For You.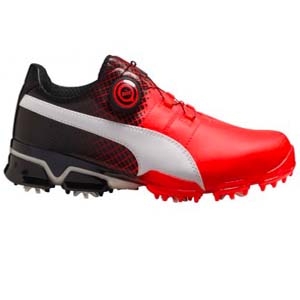 Using revolutionary PWRFRAME technology foam, PUMA Golf TITANTOUR IGNITE Disc Shoes - Special Edition, provides more energy return, responsive feel,