The U.S. Kids Golf Montgomery 2017 Spring Local Tour will tee off February 25, 2017 at Lagoon Park GC, Montgomery, AL, and just in time, as  Coach Quincy Leonard has been prominently named as the US Kids Golf Montgomery Tour Director.
Quincy Leonard, Leo Golf Academy founder at Gateway Golf Course, has also received a distinctive honorable mention recognition from U.S. Kids Golf for its annual Top 50 Kids Teacher Award. The Award, announced on January 4, 2017, recognizes the world's most outstanding youth golf instructors, and Coach Leonard is part of a select group that earned accolades among more than 500 applicants.
Since 2004, U.S. Kids Golf has honored the best youth golf teachers with the Top 50 Kids Teacher Award. Applicants complete an online survey and winners are chosen based on their contributions to youth golf, such as: experience young golfers; time devoted to teaching youth; innovation, creativity and fun in their programs; communication; parental involvement; use of a well-organized instruction program and overall effort to grow the game.
The Top 50 Kids Teachers of 2016 includes golf professionals from 22 states, Canada and Costa Rica. Each year, award recipients include teachers who work at public, private, resort and municipal courses.
"The teachers and coaches who win this award play an important part in our corporate mission to make the game of golf for kids," said Dan Van Horn, President and CEO of U.S. Kids Golf. "Our goal in recognizing these youth golf coaches is to bot recognize their accomplishments and also to help parents find quality golf instruction for their kids."  The Top 50 Kids Teacher Award is administered by the U.S. Kids Golf Coaches Institute, a division of the U.S. Kids Golf Foundation.
Coach Leonard, 44, and a Valiant Cross Academy Golf Coach, has more than 20 years of golfing experience and has been coaching youth golf for the past 8 years. LEO Golf Academy offers high level golf instruction to area youth through private lessons, group golf clinics, and local tours. He has a wealth of knowledge and has instructed a group of 30 boys and girls who attended clinics once a month.
"My hopes for the US Kids Golf Montgomery Tour this season is to introduce kids that may not have the opportunity to play tournament golf, to give families the opportunity to enjoy golf together and to bring USKG to the Montgomery Area," said Leonard.
Coach Leonard, has coached students from the Montgomery Therapeutic Recreation Center (MTRC) with physical and mental disabilities and the champions have complete and won in Special Olympics Golf events.  His clinics are growing tremendously and he has coached several juniors in the Montgomery Area, the majority of which are working through the US Kids Golf Level Learning Program.
Under the direction of Coach Leonard, throughout the 2017 Spring Local Tour, U.S. Kids Golf Montgomery will head to some of the finest courses in the Montgomery area. The full schedule is listed below.
Montgomery 2017 Spring Local Tour Schedule

This the link to registration can be found HERE
For more information contact Quincy Leonard at 334.721-4536, or visit leogolfacademy.com
About U.S. Kids Golf Tournaments
U.S. Kids Golf Local Tours provide boys and girls, ages 5 to 14, the opportunity to advance their golf experience in age-appropriate competition.
At the Local Tour level, kids can gain their first exposure to competitive golf, earn Priority Status for Championship Events, meet new friends and learn valuable life lessons.
Similar to the PGA TOUR, players at U.S. Kids Golf events are encouraged to have caddies to help them play their best. Allowing caddies is part of our commitment to encouraging family interaction that builds lasting memories.
The top five finishers in each age group will receive Priority Status, granting them invitations to Championship Events. These events consist of State Invitationals, Regional Championships, International Championships and the World Championship, held each year in Pinehurst.
About the U.S. Kids Golf Foundation
The mission of U.S. Kids Golf is to help kids have fun learning the lifelong game of golf and to encourage family interaction that builds lasting memories.
This mission is all about supporting the next generation of golf's great players. Whether that means making clubs that fit your kid, certifying coaches who make learning the game more fun, scaling courses or providing entry level to advanced competition, U.S. Kids Golf is committed to supporting the future of the game.
The U.S. Kids Golf Foundation, a Georgia non-profit recognized as a 501(c)(3) charity, was created in 2001 and provides services that include competition and instruction. The Foundation organizes more than 1,000 golf tournaments for kids each year. In partnership with the PGA of America, the Foundation also supports the U.S. Kids Golf Family Course program, which provides guidelines that help courses make the game easier to learn and more fun for kids and their families.

Recommended For You.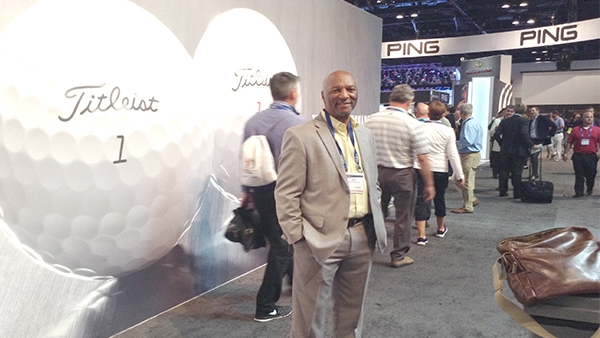 Award-winning author Pete McDaniel navigated through the thick crowds at the 2018 PGA Merchandise Show at the