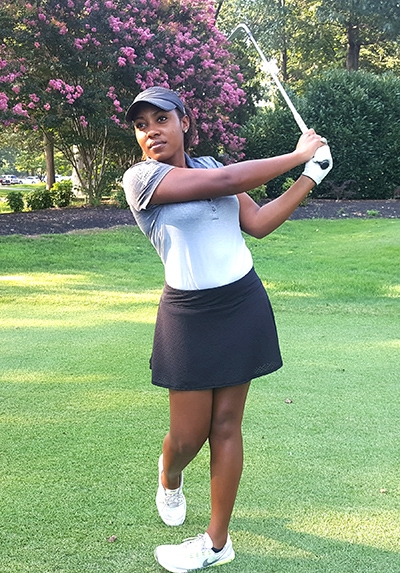 We've followed Micaa' Thomas since her younger years, in 2013-14, when she was the National and International AAU Golf Champion in her age group," says Debert Cook, publisher, African American Golfer's Digest.
"It was back in 2015, as a recent graduate, she was a three-time high school golf champion at Archbishop Spalding in Severn, Maryland. Now, Micaa' has developed into an even more skilled golfer who is following her dreams at the College of Art and Design in Atlanta, Georgia.  We're so proud of her accomplishments."
Thomas also captured the attention of AAGD when the Appalachian Athletic Conference (AAC) held its annual golf championship at the Lake View Course at Calloway Gardens, Pine Mountain, Ga., on April 26-27, 2016.
The two-day tournament featured 11 AAC Women Golf teams battling for an appearance at the National Association of Interscholastic Athletics (NAIA) National Golf Championship that coming May, in Savannah, Ga. Thomas, then a Freshman and member of the Savannah College of Art and Design (SCAD), Atlanta Campus, Women's Golf Team, was the Medalist for this major event and won her way into an opportunity to battle on the national stage in Savannah.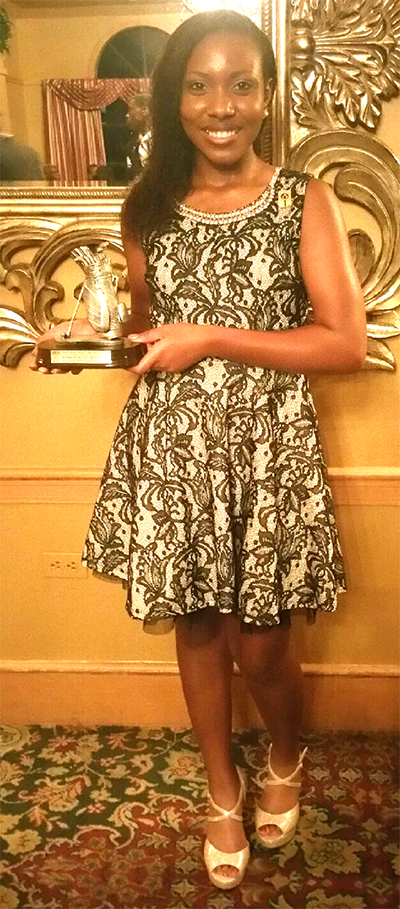 RELATED STORY: Micaa' Thomas, African American Golf Hall of Fame Inductee, Wins Optimist International Qualifying Tournament
Now, coming off of her most recent flight win at the Maryland State Golf Association's Women's Amateur Championship, Thomas, 19, a Bowie native and Archbishop Spalding graduate, notched her third career win at an MSGA event when she won at Hillendale Country Club in Phoenix, Maryland in July.  Not surprising to many, knowing the ambitious personality and notable history of this May 2015, inductee into the African American Hall of Fame (West Palm Beach, FL).
Following 18 challenging holes of stroke play, it became the determining factor as to the fate of Thomas and which women would compete in the championship flight. Handicaps of the golfers lined-up match-play on the rest of the field.   Being a strong player, Thomas is a 1-handicap golfer. She went on to compete in the second flight and out-placed her first two opponents. After 19 holes with her final opponent, Julia Calomiris, Thomas claimed Championship title.

It was a tightly contested round of match play the entire round. After Thomas won the 17th hole, she moved to 1-up with one hole to go, but Calomiris forced an extra hole when she sank a 20-foot birdie on 18 to beat Thomas' par and tie the match.
Both Thomas and Calomiris returned to the par-5 first hole to resume their heated round of play. On her second shot, Thomas's ball went far right, landing under a tree at approximately 114 yards from the hole. Some presumed this would be the end for Thomas, however, with her mother (and caddie) Cheryl Thomas by her side words of encouragement flowed, "My mom, she's telling me, 'You know it's OK if you don't win this. At least you got here, to this point,'" Thomas' mom reportedly said. But Thomas' confidence rose and she admitted, "I'm just like, in my head, 'No, I have to do this, for me.'"
With that positive attitude Thomas hit a 9-iron, and her ball skidded past a greenside bunker and came to rest on the fringe of the green. She had a downhill, left-to-right breaking, 10-foot birdie putt — This gave her just what she needed to hit, "the slightest tap possible" — but it just missed, and left her with having to shoot a four-footer for par.
But Calomiris unbelievably missed her par putt.   Thomas had one more opportunity to and took full advantage of it. "I analyzed the mess out of that putt," Thomas said.
Thomas put the ball in the cup and put an end to the match. She said it was the first time she played a playoff hole in match play.
The round may well be the greatest moment of the summer for Thomas, but she can't sit on her laurels, as she will soon start her junior year at Savannah College of Art and Design's on the Atlanta campus this fall.
The focus that she plays with is increasing each year and her rise in the game has lead her to competed in local events on the Golf Channel Am Tour, an amateur golf tour in which women and men compete side-by-side, and tied for second in one tournament in Havre de Grace.

Her ultimate golf is to continue to play at her very best, staying focused, with her eyes on earning her LPGA Tour card after she graduates.
To pass along her golfing skills and tips, Thomas lends her time teaching golf to youngsters aged 4-11, twice a week, at Bowie Golf Club in partnership with the Sisters Who Swing Golf Association, a non-profit that has supported Thomas in the past.
"With me growing up, I had role models that I looked up to," Thomas told reporter Zielonka. "I feel like with me doing all these tournaments and wanting to follow my dreams, that (younger people) should also have that as well. What better way to do it than actually being there and helping them, hand on hand?"
Nicole West and her sister Dionne serve as strong role models for Thomas, who met the Wests and their father, Bill, at Langston Golf Course in Washington through he First Tee of Greater Washington that had her involved there.
"It's been great to see her grow and mature over the years and just become a great young woman overall," Nicole West said to reporter Zielonka. "Not just in golf, but overall." Cheryl Thomas admits to witnessing how Thomas has matured, and, how as a mom, she is able to keep her calm while caddying for her.
"She's more mature. The maturity is definitely there," Cheryl Thomas said. "She's learning how to analyze things better and not get so riled up in her mind. She's always focused."
Companies and others can make tax-deductible contributions in Micaa's name online to the Sisters Who Swing Golf Association (SWSGA).  "This will help to cover golf instruction fees and summer college tournament expenses, including entry fees, airline fares, food, gas, car rental, hotel, and other expenses,"  says Micca's father, Michael Thomas.  As an alternative, tax-deductible contributions may also be mailed to: Michael Thomas, P. O. Box 1243, Bowie, MD 20718. Contact Michael Thomas for more information on how to support Micaa's golf via email at mthomas3399@hotmail.com or at 240-432-2997.
Certainly a bright future in golf is still on the horizon for Micca' Thomas.

Recommended For You.
Barbados born, Berklee School of Music-educated saxman Elan Trotman takes his jazz performances to another level of expectation. His "all