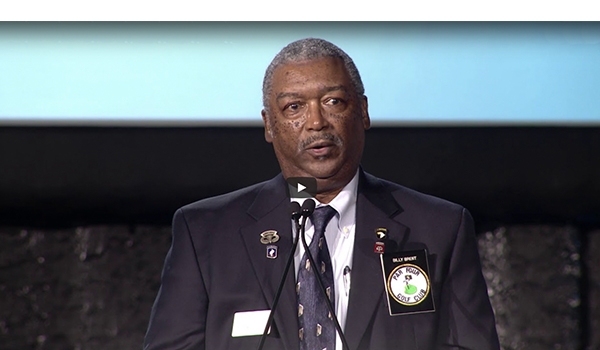 William "Billy" Brent took to the center stage in grand form and with nimble humility when honored by The First Tee of Northwest Florida with their 2017 George H.W. Bush Shell Oil Volunteer of the Year award on November 11, 2017, during the General Session at The First Tee Network  Meeting in Orlando, Florida.  The award is given in recognition to a volunteer who has demonstrated exceptional service and commitment The First Tee by providing hands-on support with events, chapter operations and programs.  The award letter arrived in September.
Brent, known by friends as "Billy", is this year commemorating his 14th year anniversary as a volunteer with The First Tee of Northwest Florida at the Osceola Golf Course, where he has been there since the program first opened in 2004.
The former Army Airborne Ranger, now age 70, has served The First Tee as a Board Member and Mentoring Program Director (8 years) and as an annual donor.
"I first started with First Tee at Osceola Golf Course in June 2004, with the Pro and Director of Golf at Osceola, Mr. Adrian Stills. We were the first two First Tee Golf Instructors in Pensacola and the Panhandle, today, there are over 10," says a dedicated Billy.
However, Billy has done so much more—going beyond the normal call of duty, privately funding area students in need with scholarships for college right out of his own pocket.   His lessons are intense and thorough and include chipping, putting and 40 to 50-yard pitch shots.  Yet, he has never taken a fee, choosing instead to spend his own money to help keep junior golf programs going, even to this day.
A skilled golfer, known by the moniker "Mr. Smooth", Billy racked up trophies and even earned his card and made it to the PGA Senior Tour.  After several years, the certified Mediator, EEO Counselor and Advisor and a Union Official successfully taught junior and adult golfers while a member of the Par Four Golf Club.
On the course, his favorite recollections include caddying for legendary golfers such as the late Calvin Pete and Charlie Sifford to name a few.

Billy joined the U.S. Army and served with honor and distinction in Vietnam and is a Bronze Star recipient.  Afterwards, he worked professionally as an area manager for Goodyear, a District manager for Goodyear, a District Manager of the Pensacola News Journal and played professional golf for five years.   He retired in December 2008, taking with him his keen wit, great sense of humor, and the ability to quickly spot and effectively solve problems.
"A WELL DESERVED RECOGNITION"
Marty Stanovich, Executive Director of the First Tee Northwest Florida, gave Billy the opportunity to be an instructor for The First Tee Golf Skills and Life Skills curriculum that includes chipping, putting and 40 to 50-yard pitch shots. with and says Billy's recognition is well deserved.
"When you talk about a man who started his career jumping out of perfectly good airplanes in Vietnam as an Airborne Ranger, but then came back and not only was a computer programmer and worked a government job, but he gave more time outside mentoring, teaching, creating a scholarship program," she said. "It's all of the things that Billy does outside of the First Tee that truly makes him worthy of this honor."
Billy has served as a volunteer mentor for Navy youth at Saufley Field NAS, in Escambia County Schools and on the Board of Directors of ARC Gateway-The Association of Retarded Citizens.  His solid reputation and outgoing personality have gained him an abundance of friends and he flourishes as a long-time member of the Toastmasters of America.
During earlier times Billy worked his 40-hours a week, full-time job, as IT Specialist/Computer Programmer for the U.S. Government at Naval Air Station Pensacola (21 years) and still made time for his volunteer service at The First Tee of Northwest Florida.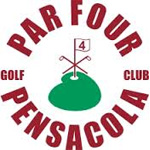 RELATED STORY: Pensacola's Par Four GOLF Club Hits 40 Years
Perhaps Billy's generosity and leadership skills were instilled in him by his grandmother Corinne H. Jones, a community motivator who built a recreation center from donations then brought in teachers who taught local youth to play the donated musical instruments free of charge, if necessary.  Billy learned three of them, the Coronet, violin and piano.  "You have to remember, when you're working with kids, you also have to give them an incentive," says Billy, who incentivized his golf students by first giving out dollars.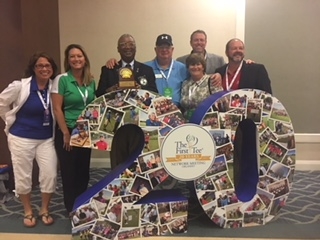 A true hero, mentor and icon in his own right, Billy has sacrificed much of his life for others.  And, although he and his lovely wife of 28-years, Gloria, have no children of their own they have raised nieces and nephews, showing them by example how to obtain success and happiness in life.  The significance of Billy's selection as Volunteer of the Year derives from within The First Tee itself, where there are 168 Chapters worldwide and more than 6000+ volunteers. This cherished and special honor for 2017 is bestowed upon Billy over them all.
VIDEO ACCEPTANCE SPEECH BY WILLIAM "BILLY" BRENT


Recommended For You.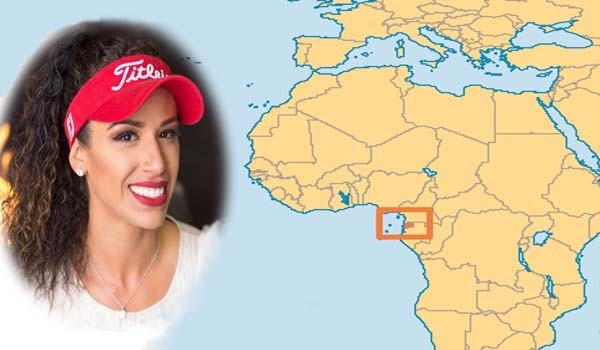 by AAGD STAFF His Excellency President Teodoro Obiang Nguema Mbasogo declared the 2017 3e Actuaries Open officially open when he visited