(August 29, 2017) by James Beatty
According to the Des Moines Register, officials announced Monday that the 2017 Solheim Cup set an attendance record. The biennial professional women's golf tournament, which was held at the Des Moines Golf and Country Club this year, attracted 124,426 fans from August 14-20, according to a press release. The previous attendance record was set in 2009 at Rich Harvest Farms in Illinois.
Large crowds on Friday also broke the event's single-day attendance record. Many traveled far to see some of the best American golfers take on Europe's top talent — more than 50 percent of attendees came from outside of the state of Iowa, including fans from more than 25 countries. The huge crowd of fans also purchased more than $2 million in merchandise, breaking another record.
The Solheim Cup was estimated to generate more than $32 million in economic impact.
I and my son, Benjamin, had the pleasure of attending courtesy of the City of West DesMoines, Department of Community and Economic Development, Mr. Clyde Evans, Director of the Department was a great and gracious host during our 3-day stay, which of course included going to the Solheim Cup events at the Des Moines Country Club.
The United States won the tournament, which Ladies Professional Golf Association (LGPA) founder Shirley Spork called the top women's golf event since the LPGA began.  For the second year in a row, the United Stated defeated the European team.  The US has won, or retained, 10 of the last 15 Solheim Cups.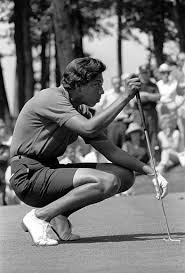 RELATED STORY: Shining A Light on Althea Gibson's Golf History
The Solheim Cup—like the Ryder Cup—is a series of 28 matches, two sessions of four groups of foursomes Friday, two sessions of four groups of fourball on Saturday, and 14-match play matches on Sunday to wrap up the tournament. Mirrored after the Ryder Cup, and the brainchild of American golf club manufacturer (PING) Karsten Solheim, the 2017 event is the first LPGA event to be held in the state of Iowa since 1966, when the eighth and final Waterloo Open was held at the Sunnyside Country Club, now Red Carpet Golf.
Since I am always conscious of the participation of African Americans in the good game of golf, it should be noted that a famous former Waterloo Open LPGA participant was Althea Gibson, the first African American player to win at Wimbledon, who switched to golf after her stellar tennis career and played in the event in 1965,the same year she married William Darben
In 1964 she became a professional golfer.  Gibson was the first black woman to hold a LPGA player's card, thus breaking the color barrier in two of the most socially elite sports. Often she was the first woman of color to compete for championships on private golf courses. From 1963 to 1977, LPGA pioneer Althea Gibson played in 171 tournaments but never won.
Gibson's best finish was a second-place tie at the Len Immke Buick Open in Columbus, Ohio, in 1970, where she netted $3,633.75. Over the course of her golf career, she earned $19,250.25, although she was one of the LPGA's top 50 money winners for five years.
Here are Althea's 1965 Waterloo results. She earned $200 and shot 76-79-73 totaling 228, 2 strokes behind Donna Caponi, a 2001 World Golf Hall of Fame Inductee.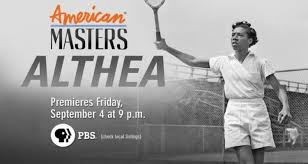 While attending Florida A&M in the early 1950s, Gibson took a golf class, and what she learned during that time stayed with her, according to Rex Miller, who directed "Althea," a PBS American Masters documentary film about the trailblazing athlete.
Here are the ladies who have earned their LPGA Tour Cards thus far and their order of accomplishment.
Althea Gibson – 1964 (Florida A&M University)
Renee Powell – 1967 (Ohio University and Ohio State University)
Laree Sugg – 1995 (University of California, Los Angeles)
Shasta Averyhardt – 2013 (Jackson State University)
Ginger Howard- 2016 (IMG Academy)
Sadena Parks – 2014 (University of Washington)
Cheyenne Woods – 2015  (Wake Forest University)
Mariah Stackhouse – 2017 (Stanford University)
FACT: LPGA has more African-American players playing on tour than the PGA Tour does.

So naturally, I'm thinking and wondering when will African American women, make the team? Understand, I have no issues with the current team and was glad to see them win. I marveled at the shots these ladies made and was absolutely glued to the TV on Sunday watching Lexi Thompson rally and earn a half point with her spectacular play on the back nine.
In the meantime, more work has to be done to identify and cultivate women of color in the game. So imagine how elated I was when I saw Women in Golf Foundation founder and President, LaJean Gould at the event.  I literally had just walked onto the course on Friday when I saw her.
Ms. Gould was there for several reasons, not the least of which was to garner support for her Women in Golf Foundation.
The Women In Golf Foundation, Inc., headquartered in Atlanta, Georgia, is a 501(c)3 organization that promotes women in golf. The organization focuses on creating opportunities for females by implementing programs that develop leadership and life skills as they learn to play the game of golf competitively for business and recreational purposes.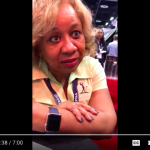 RELATED STORY: LaJean Gould, Founder & President, Women in Golf Foundation
Interview at the 2017 PGA Merchandise Show
Support and training are provided for female youth golfers early through college and entry into their chosen profession. The organization's signature focus is on the development of women collegiate golf teams and identifying career opportunities within the golf industry and other corporate positions. To keep this focus, young girls are recruited and developed as a feeder pool for collegiate institutions.
I wish Ms. Gould and her foundation every success and, hope that she and others dedicated to the cause will groom the first African American woman to play in the Solheim Cup soon! How great it will be!
Recommended For You.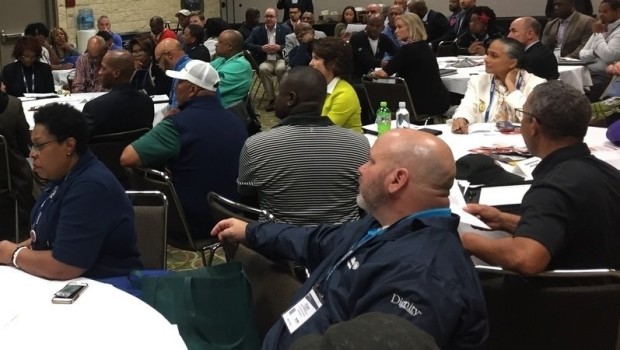 FOR IMMEDIATE RELEASE New York, NY  (February 13, 2018) — In order to grow the game of golf among women, people of