By James Beatty
Last month, from July 30 through August 2, I had the distinct pleasure of attending the NAFEO "Presidential Peer Seminar and Leadership Development Institute" conference held on Amelia Island, Florida.
The National Association for Equal Opportunity in Higher Education (NAFEO) is the not-for-profit umbrella organization of the nation's Historically Black Colleges and Universities (HBCUs) and Predominantly Black Institutions (PBIs).
Founded in 1969, NAFEO is the only membership association of its kind, representing the presidents and chancellors of the diverse black colleges and universities: public, private and land grant, two-year, four-year, graduate and professional, historically and predominantly black colleges and universities.
NAFEO represents 105 public, private, and land-grant, 2- and 4-year Historically Black Colleges and Universities (HBCUs) and 92 Predominantly Black Institutions (PBIs)
I along with 4 other African American activists/leaders in golf were invited to attend courtesy of Lezli Baskerville, President & CEO of NAFEO.
Our team included Dr. Michael Cooper (Chair, World Golf Foundation Golf 20/20 Diversity Task Force), LaJean Gould (President/CEO, Women In Golf Foundation), Clemmie Perry (Founder & CEO, Women of Color Golf), Craig Kirby (Founder, Golf.My Future. My Game) and myself, James Beatty (Executive Editor, African American Golfer's Digest).
The purpose for attending was due to the recent suspension of the golf programs at Jackson State University, as reported in the Clarion-Ledger on June 15, 2017.
"Interim President Rod Paige said on Thursday that the university tentatively planned to suspend both the men's and women's programs for two years.
Paige spoke during an executive session at a meeting of the IHL Board in Jackson when he confirmed to a reporter the University's plans.
Jackson State Athletic Director Wheeler Brown said he is still in the process of trying to save the programs, but admitted that budget cuts might necessitate the move.
"It is not set in stone, it's proposed," he said. "We're trying to weigh our options, but with the financial situation going on at the university, it wouldn't be prudent to think the department of athletics would get through it unscathed."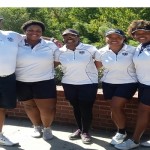 RELATED STORY: Jackson State University Women's Golf Team A Budget Cut Casualty
While not as celebrated as the traditional revenue sports, both golf programs are among the most consistently competitive on the school's campus.
The men's golf program won 23 consecutive SWAC (Southwest Athletic Conference) championships from 1989 through 2011 and during former coach Eddie Payton's tenure. The women's golf program started play in 1994 and went on to win 10 conference titles under Payton.
In 1995, JSU became the first HBCU to compete in the NCAA Men's National Golf Championships, and in 1999 the Lady Tigers became the first HBCU to compete in the NCAA Women's National Golf Championships.
SHOCKWAVES THROUGHOUT THE GOLF WORLD
The decision to suspend the programs sent shockwaves throughout the golf world. Consequently, after several phone calls, emails and a meeting held in Chicago during the Advocates Tour tournament, it was decided that something should be done. It was then, Craig Kirby reached out to NAFEO to express our concern. Without hesitation, President Baskerville understood and embraced the impact not only of competitive golf but the need for all students to understand the role of golf as a business and profession.
Attending this Presidential Peer Seminar, which was more like a family gathering, was absolutely one of the most informative, inspiring, intellectual and invigorating conferences that I have ever attended. I had the pleasure of meeting many of the HBCU/PBI Presidents and Chancellors such as Florida A&M (FAMU), Southern University, Edward Waters College, Lincoln University, Wilberforce, Fisk and many more.
I listened to their impassioned panel discussions and learned of their ongoing challenges and, more importantly, their triumphs!
My overwhelming observation is that the leaders at these institutions are absolutely committed to providing the most comprehensive and relevant education for their students and they are willing to move heaven and earth to do so. Some of them have even been able to reduce tuition while simultaneously increasing enrollment. Really!!
To be sure, the challenges are ongoing and could crush less passionate and less formidable leaders and we should be thankful that these college and university presidents are meeting the tasks daily and winning.
RELATED STORY: Jackson State Suspends Men's and Women's Golf Teams For Two Years
The team was there to talk and to listen to these presidents.  Not only to stem the tide of closing HBCU and PBI golf programs but to make sure that these institutions understood their role in developing the full spectrum of the pipeline for the golf industry as managers, professionals, and executives and to encourage them to accept and embrace the challenge.
Golf is a $70 billion dollar a year industry!  It is comprised of much more than the players we see on TV. There are jobs, professions, internships, and careers in the golf industry and the HBCU's need to make sure that its students are prepared to pursue and prosper in these opportunities.
2017 NAFEO Presidential Peer Seminar and Leadership Development Institute Video 

HBCU's need to make sure its students understand how participating in golf can help start and nurture a career.
Students need to understand how golf can facilitate meetings with corporate influencers and decision makers leading to deals.
OPENING THE DOORS FOR CHANGE
Darrell Crall was named the PGA of America's Chief Operating Officer in November 2012.As a team, we wanted to make sure that these Presidents viewed us as a resource to assist them in initiating and expanding programs and even courses and curricula relating to golf for all students. We were given time on the program from 7:30 a.m. to 9:30 a.m. each morning to present our vision entitled:  "Look, Listen and Learn: Leadership Lessons from the Links".
That's right, we met with any and all interested parties to discuss all things golf: play golf, position golf and promote golf.  Presidents and Chancellors' from Wilberforce, Fisk, Southern and North Carolina Central were in attendance at these sessions and were ready to unite for the betterment of the sport.  It was GREAT to make these connections and contribute to the future of growing the game!
The week was also highlighted by Darrell Crall, Chief Operating Officer of the PGA of America, who addressed the forum and shared his personal history and involvement into the game and industry.  His story resonated with the room.   His sharing of the importance of the organizations mentioned previously, and our collaboration with the PGA of America, his words struck a cord with conferees who felt engaged and excited.
This and other conversations have occurred, and now, doors have been opened for HBCU's and PBI's to move forward.
Readers should expect to find out more about the progress of this effort in which Craig Kirby, founder of Golf. My Future. My Game. has accepted the challenge to lead.  Craig is in serious discussions with Southern University and North Carolina Central University and has committed to keep us updated on the collective progress of his activities.
Please feel free to share with me your comments, ideas and suggestions and keep this effort in your prayers, as we collectively work through this to have a meaningful impact with the HBCU's and PBI's on both the game and the business of golf for our Community.
Recommended For You.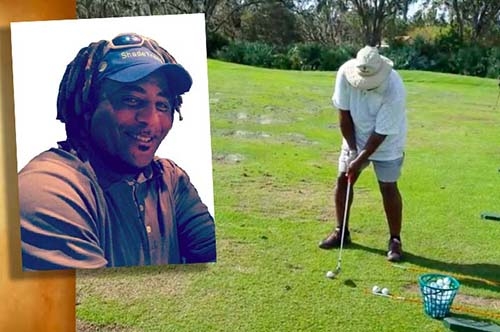 Charles  Calhoun, a.k.a. "The ShadeTree Pro", provides golf instruction to Mr. Charles Williams, working with him on getting into the
Share Your Comments