The evening marked the Brooklyn premier of "The Cornel West Concerto".  The concerto, commissioned and premiered by the Apollo Theatre last year, is a collaboration between five-time GRAMMY -winner Arturo O'Farrill and award-winning author and GRAMMY-nominee Cornel West.  The concerto draws from the rich trove of traditional African American Jazz, Blues, and the chanted sermon, and was inspired by the current spirit of political unrest and resistance in the U.S.  In the style of the fiery southern preacher, West improvises his reflections on W.E.B. DuBois' four questions.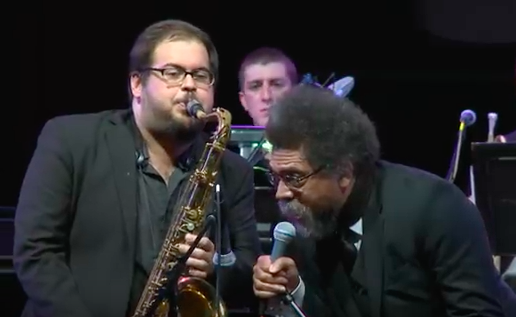 The show was held in the Brooklyn College Whitman Theatre at 7:00 p.m. with an intimate conversation with Dr. West and Prof. O' Farrill, followed by the musical program that included The Brooklyn College Big Band, directed by Arturo O'Farrill with special guests Conservatory Singers, directed by Malcolm J. Merriweather.
Within the Concerto, Dr. West answers W.E.B. DuBois' Four Questions:
How shall Integrity face opposition?
What shall Honesty do in the face of deception?
What does Decency do in the face of insult?
How does Virtue meet brute force?
The musical show began at 8:00 p.m. with O' Farrill leading the Brooklyn Big Band.
The Brooklyn Big Band magnificently played several wonderful pieces: A Still Small Voice in four movements:  Trump, Untrump; Acknowledgement (from A Love Supreme), Suite Brazil 64-16, and The Cornell West Concerto: The Four Questions which featured Dr. Cornel West – – one of the most provocative cultural critics and social activists of our time.
The Cornel West Concerto answered all Four Questions in brilliant style, as West danced onstage, played congas, directed the band in segments and delivered his powerful message to the audience.  Dr. West – – one of the most provocative cultural critics and social activists of our time was masterfully in touch in the musically charged theatre where friends and fans enjoyed an up-close and personal encouner.
The audience, estimated at nearly 400, clapped, sang, chanted, and engaged with Dr. West throughout the performance.  Hands were raised and supportive yelps moved others to engage in the mastery of the eloquence of the seasoned activist Dr. West. The musical tribute was presented by the Hitchcock Institute for Studies in American Music in cooperation with the Conservatory of Music, Dept. of Africana Studies, and the Central Brooklyn Jazz Consortium.
Cornel West is a philosopher, political activist, social critic, author, and public intellectual. Â He is currently a professor at the Practice of Public Philosophy, holding a joint appointment at the Harvard Divinity School and the university's Department of African and African American Studies. Â He is Professor Emeritus at Princeton University and has also taught at the Union Theological Seminary, Yale University, and the University of Paris. Â West is the author of more than twenty books that include Race Matters, Democracy Matters, Brother West: Living and Loving Out Loud, and his most recent, Black Prophetic Fire and Radical King.
Recommended For You.
You have no doubt already heard that new golf rules will come into effect on January 1st, 2019. This will