Garvis Reynard Leak is 2017 "Inventor of the Year," as designated by the African American Golfer's Digest.  The Winston-Salem, North Carolina native is the creator and mastermind behind his "Taking Off" Golf Platform, a patented training aid designed to help golfers visualize golf ball movement.
Leak, 55, retired from the Air Force after serving 26 years and currently lives in Dayton, Ohio.  It was while he was stationed in Misawa, Japan, that he developed an interest in the game and began playing golf.
Currently, Leak is a high school golf coach in the Dayton Public School System (Ponitz CTC). Prior to that, he coached golf with The First Tee Golf Program (Greater Miami Valley, Dayton Ohio) at Wright-Patterson Air Force Base and was with the City of Dayton for 10 years.  By profession, Leak extends his expertise as a LifeCoach/Financial Coach.  After several years of teaching—and hundreds of golf rounds—his creativity and ingenuity resulted in the development of his unique golf training aid.
Catching up with the busy entrepreneur, Leak shared insight into the success of the product.
How did you come up with the idea for your product?
"After watching golf videos/TV, and hearing statements by instructors, trainers, and coaches, about the 'launching' of the golf ball, I pondered for a long time, and, realized the golf ball actually does "TAKE OFF" similar to an airplane.  It starts on the ground, flies, and lands on the fairway (sometimes)."
It was after this realization, Leak—who teaches and works with students and young people including students at Wright State University on goal setting, resilience, budgeting and management skills,  decided to invent the "Taking Off" golf training product.
How much investment did your venture take to start up?
"The initial investment was nominal, it cost approximately $150.00."
How did you come up with the name for your product?
"A lot of people are familiar with an airplane taking off, so I thought that "TAKING OFF" was a good fit for the platform."
Do you have investors in your product?
"At the present time, I have no investors; however my outlook is working with potential investors to expand and bring awareness to the product, especially in schools.  I truly believe the golf platform is a good product;  So I decided to conduct business with the mindset of making a difference."
Where is your product manufactured?
"It has been well documented that a lot of inventions, were started and made in a garage.  At the present time, my product is manufactured in my garage/basement."
Who do you believe will benefit from your product?
"I believe all golfers (youth/beginners/adults) will benefit from this platform.  If you are a new golfer, you can practice at the driving range or in the backyard.  If you are a seasoned golfer, you can work on all aspects of your game."
Does your product provide any instructional videos for customers who purchase it?
Yes, the platform comes with instructions and a measuring rod (12 inches) at no additional cost. Customers may
How much does your product cost?
"The cost of the youth/beginner platform (white) is $15.00.  The cost for the adult platform (brown) is $15.00.  Shipping/handling and taxes are not included in the price."
Does the "Taking Off" Golf Platform come with any warranties or guarantees?
"If the platform is damaged during shipping/handling, we will replace it.   A customer only needs to return the damaged platform to receive a replacement."
How do people purchase your product?
"Purchases can be made on our website:  takingoffgolf.com, to purchase the platform.  Testimonials and videos can be seen on the Taking Off Golf Platform Facebook page"
Once purchased, how long does it take for the "Taking Off" Golf Platform to arrive to the customer?
"Once we received an order, it will take approximately 2-3 weeks for delivery, depending on the shipping destination."
Leak made a special guest appearance at the 2017 PGA Merchandise Show & Convention, January 25-27, 2017, for a Meet-N-Greet in the Products & Services section at African American Golfer's Digest Diversity Pavilion Booth #2991.  The PGA Show is the golf industry's leading event, where PGA Professionals & Golf Industry Professionals gather to discover the latest trends in golf equipment & technology, apparel & accessories.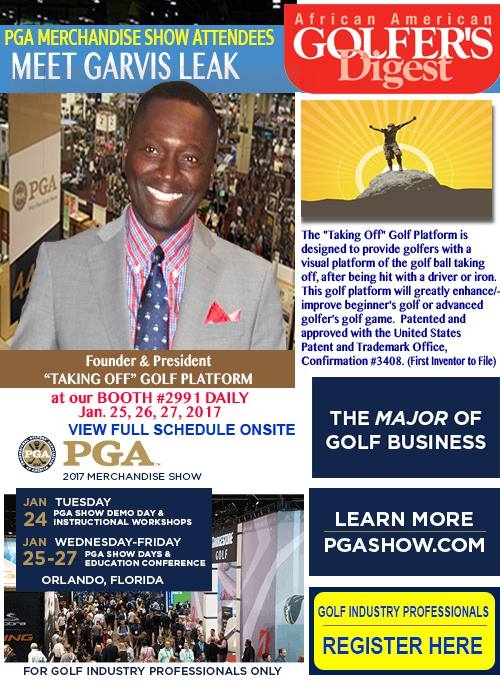 Contact:
Garvis Leak
Founder & President
"Taking Off" Golf Platform
P.O. Box 24701
Dayton, OH  45424
Email:
gleak@woh.rr.com
Recommended For You.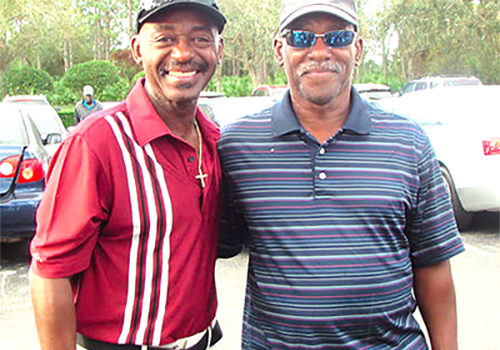 Dates Played: Saturday and Sunday, November 4, 5, 2017 Daytona Beach, Florida L.P.G.A. International Golf Courses – Championships and Legends 26 Ladies, 175 Men