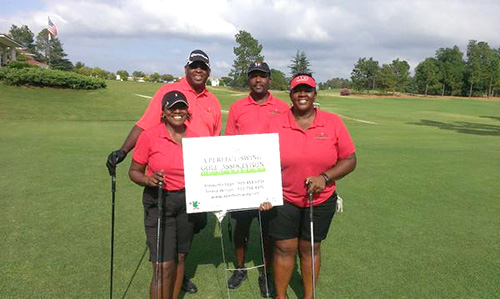 Above: Pamela Alexander, Darrell Mayo, Greg Gilchrist, Ashaunta Epps
A Perfect Swing members had a great time participating in the Sherwood H. Smith, Jr., Energy Complex Invitational Charity Golf Tournament on Friday. August 7, 2015.
The outing, held at Pinehurst Resort with play on course No. 3., supported Backpack Pals, a United Way Charity, that was designed to meet the needs of hungry elementary and middle school children, identified by school staff, who have little to eat over the weekend.  Backpacks containing nutritious individual serving size breakfast and lunch items are sent home with the child on Fridays and then returned to the school on Mondays.  Volunteers then refill the empty backpacks and return them to the school before Friday.

Epps won a nice golf bag for the closest to the pin competition.  Greg Gilchrist won a beautiful  wristwatch during the raffle.
Ashaunta Epps, CEO/Founder of A Perfect Swing, Inc., worked in corporate America for over fifteen years, and noticed that she was missing out on many networking opportunities because she didn't play golf.   Participating in the Sherwood H. Smith, Jr., Energy Complex Invitational Charity Golf Tournament had a special meaning for her.
"I'm the youngest of five children and I understand the financial struggles that my mom faced raising us as a single parent. There were several neighbors, church members, and relatives that assisted her in our times of need. I cherish the value each of them brought to my life, so to have an opportunity to support an initiative like this, one that I could have potentially needed as a child myself, I jumped at the chance."

"The philanthropy for the A Perfect Swing Golf Association is our youth, through the A Perfect Swing Foundation, which is our non-profit organization that is focused on youth, self-awareness and enhancement.  We like to act with a purpose, so this was a fabulous opportunity for us to TEE It Up with a PURPOSE."
"Teresa Wilson, A Perfect Swing Golf Association Board Member and former Plant Manager at the Smith Energy Complex, told us about this fundraiser outing and we were immediately excited about the opportunity to participate. I had a great time! Not only was I able to support a great cause, I had an opportunity to network with other business professionals, learn about the business and community initiatives that they are involved with, and set the tone for future collaboration. "

"The Duke Energy volunteers showed us southern hospitality at its finest and, the icing on the cake? Well, that was the first class accommodations of the Pinehurst Golf Resort."
ABOUT A PERFECT SWING
The purpose of the A Perfect Swing Golf Association is to provide non-competitive and competitive opportunities for individuals of all ages, ethnicities, and golf skill levels to come together, network, build communication skills, and learn the game of golf.  Additionally, oversee planning and fundraising for its non-profit organization, A Perfect Swing Foundation.
CONTACT:
Ashaunta A. Epps
CEO/Founder, A Perfect Swing, Inc.
Website: www.aperfectswing.net
LinkedIn: http://www.linkedin.com/in/ashauntaepps
Recommended For You.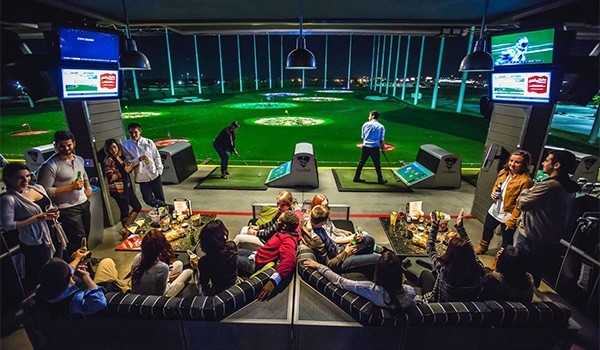 OMAHA, Neb. (WOWT) -- It's official, TopGolf is coming to Omaha, Nebraska. The City Council voted in 7-0 in favor