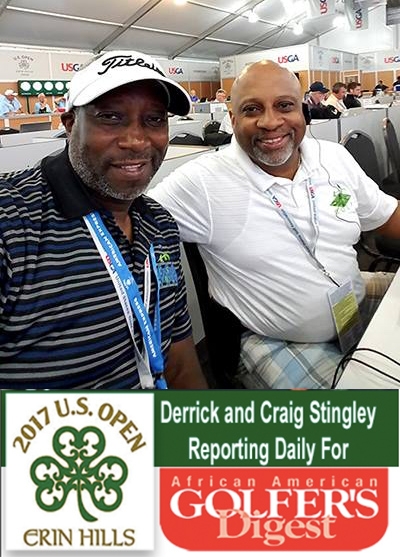 DAY:    JUNE 12  |  JUNE 13   |  JUNE 14   |    JUNE 15   |   JUNE 16   |  JUNE 17  |  JUNE 18
Coverage of this exciting tournament is being captured by brothers, co-inventors at C.S. Innovation and avid golf critics, Derrick and Craig Stingley.  Follow them on this portal for a perspective you can find nowhere else.
(June 18, 2017  10:20pm)
The final round did not disappoint! The word of the day was "WIND!"– Winds from 15-20 mph gave the players an extra challenge throughout the final round of the 117th US Open.
Erin Hills showed its teeth today, even with the soft conditions that were created from the massive rain that relentlessly drenched spectators during the week.
Tournament action saw the leader Brian Harman, one of the few left-handed players on tour, in the lead at  12 under par.  Harman played some phenomenal golf throughout 11 holes, to remain at even par until bogeying both the 12th and 13th, to drop behind by 1 at 11 under par at the time.
Meanwhile, 2 of the 3 players that began the day tied for 2nd at 11 under (ToFleetwood and Justin Thomas) started out with high hopes of catching and overcoming the leader.  But just could not mount enough of a charge to get it done. Fleetwood played solidly to end at 11 under in a solo third place finish.
Meanwhile, Justin Thomas couldn't follow-up his record-setting performance of the day before,  struggling to control the ball in the wayward Erin Hills wind. Thomas bogeyed holes 2, 4 and 5 on the front, as well as 13 on the back, to reach 3 over par for the day.  This dropped him to minus 8 and his U.S. Open chances dissipated with the wind.
The third person of the trio,  Brooks Koepka seemed to be feeling it…navigating the wind; hitting fairways and greens, and posting birdies at holes 1, 2 and 8 on the front and at holes 14, 15 and 16 on the back.  These shots resulted in Koepka taking a commanding 4 -shot lead over the field, at 16 under.  These birdies would prove to make a big difference for him on this day!
Hideki Matsuyma made a furious charge posting 5 birdies on the back 9, for a 66, which was low round of the day and putting him into the clubhouse with the lead at 12 under par.
Matsuyma showed strong confidence throughout the day making shots that demonstrated how he won the Asian Amateur Championship in 2010 and 2011.
Tour winner, Matsuyma played excellently at the U.S. Open. But, it wouldn't be enough, as Brooks Koepka caught fire and reeled off three birdies in a row on 14, 15 and 16, to put the tournament out of reach for the other competitors and giving him the winning score of 16 under par.
Brooks Koepka arrived at the 2017 U.S. Open with one career victory on the PGA Tour. He left as a major champion.  He'll also take home a winner's share of $2.16 million out of the $12 million purse.
Both Brian Harman and Hideki Matsuyama finished at 12 under par, tied for 2nd place.
Brooks Koepka's score of 16 under tied low round record to par for a U.S. Open.
Other noteworthy performances include the rookie Xander Schauffele who played to a 3-way tie for 5th place with Bill Haas and Rickie Fowler.  Schauffele and Hass both shot 3 under 69's and Fowler shot an even par 72.
Meet our face on tour and in the crowd. Jeff and Cameron Champ.
Jeff is the father of Amateur Golfer Cameron Champ and he had a terrific time following his son around the course (outside the ropes) this week. Cameron, a native of Sacramento, Calif., is an up-and-coming star on this Tour and most certainly, will take home the prize one day!
Cameron, who celebrated his 22nd birthday on Thursday, played the week among some of the best players in the world, where he held his own. Champ qualified for the U.S. Open by finishing T-6 in the Newport Beach, Calif., Sectional.  With some impressive shotmaking, he finished up the 177th U.S. Open even par, and in a tie for 32nd place in the 117th U.S. Open.
In chatting with Cameron stated that "The experience was phenomenal this week and I played a practice round with Rory McElroy."–whom Cameron so happened to out-drive significantly.   Cameron also shared with us that during his practice round with Rory, the Northern Irish professional golfer gave him some advice, telling him that his driving distance is a "real advantage," and that Cameron should use it to his benefit, "because it's definitely a weapon out here on Tour," he said Rory told him.
Cameron was number 1 in driving distance for the week, coming in at 334.5 yards.   And he said that he'll continue playing amateur tour events.  he is slated to finish his senior year at Texas A&M next year.
With a good-natured, humble, personality and soft-spoken demeanor, Champ lived up to his name during the tournament, making strokes that surprised many spectators.
On Friday, completing the second round, he was a part of the hunt and actually, leading the field in driving distance.  He's a long hitter, and that's something that can take golfers that know how to control the ball, a long way in tournament play. At this year's Open, golf fans all around Erin Hills are noticing Champ.  His 6-foot frame is full of substance and power.
In my opinion, regarding Cameron, I'll say that the Tour should get ready for this young man….he's got the game to be there right now!
Well, it was a great week of golf at the 117th U.S. Open and we hope that you enjoyed it as much as we did—Catch you on the next round!
Here is a breakdown of the prize money for the 2017 U.S. Open at Erin Hills, including the winner's share for Brooks Koepka, which is a record $2.16 million:
Total purse: $12 million
1st: $2.16 million
2nd: $1.3 million
3rd: $804,023
4th: $563,642
5th: $469,460
6th: $416,263
7th: $375,278
8th: $336,106
9th: $304,188
10th: $279,403
11th: $254,981
12th: $235,757
13th: $219,677
14th: $202,751
15th: $188,243
16th: $176,153
17th: $166,481
18th: $156,809
19th: $147,137
20th: $137,464
21st: $129,122
22nd: $120,780
23rd: $112,680
24th: $105,184
25th: $98,655
26th: $93,094
27th: $88,862
28th: $85,114
29th: $81,487
30th: $77,860
31st: $74,233
32nd: $70,606
33rd: $66,979
34th: $63,715
35th: $61,055
36th: $58,395
37th: $55,856
38th: $53,438
39th: $51,020
40th: $48,602
41st: $46,184
42nd: $43,766
43rd: $41,348
44th: $38,930
45th: $36,512
46th: $34,336
47th: $32,159
48th: $30,104
49th: $28,895
50th: $27,686
51st: $26,961
52nd: $26,356
53rd: $25,872
54th: $25,631
55th: $25,389
56th: $25,147
57th: $24,905
58th: $24,663
59th: $24,422
60th: $24,180
61st: $23,938
62nd: $23,696
63rd: $23,454
64th: $23,213
65th: $22,971
66th: $22,729
Note: Purse breakdown for professionals returning 72-hole scores. All ties shall be rounded to the nearest dollar with any remainders increasing or decreasing the final paid position. $10,000 each will be awarded to the 76 professionals who missed the cut.
Recommended For You.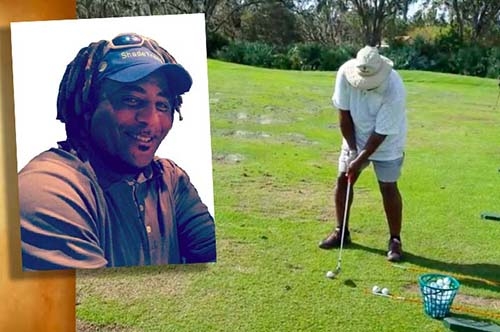 Charles  Calhoun, a.k.a. "The ShadeTree Pro", provides golf instruction to Mr. Charles Williams, working with him on getting into the
Share Your Comments